Who doesn't love soup? Soup is filling, nutritious, and just perfect when you need something comforting and delicious on a cold night.
And the good thing about Filipino cuisine is that it offers a host of comforting, nutritious, and flavorsome soups to choose from!
Filipino soups cover a range of flavors, from savory to sour. Some soups include meat and fish, while others are all about the veggies.
Either way, they're worth tasting! This is why we've rounded up our favorite picks for the 15 best Filipino soup recipes that you need to try ASAP.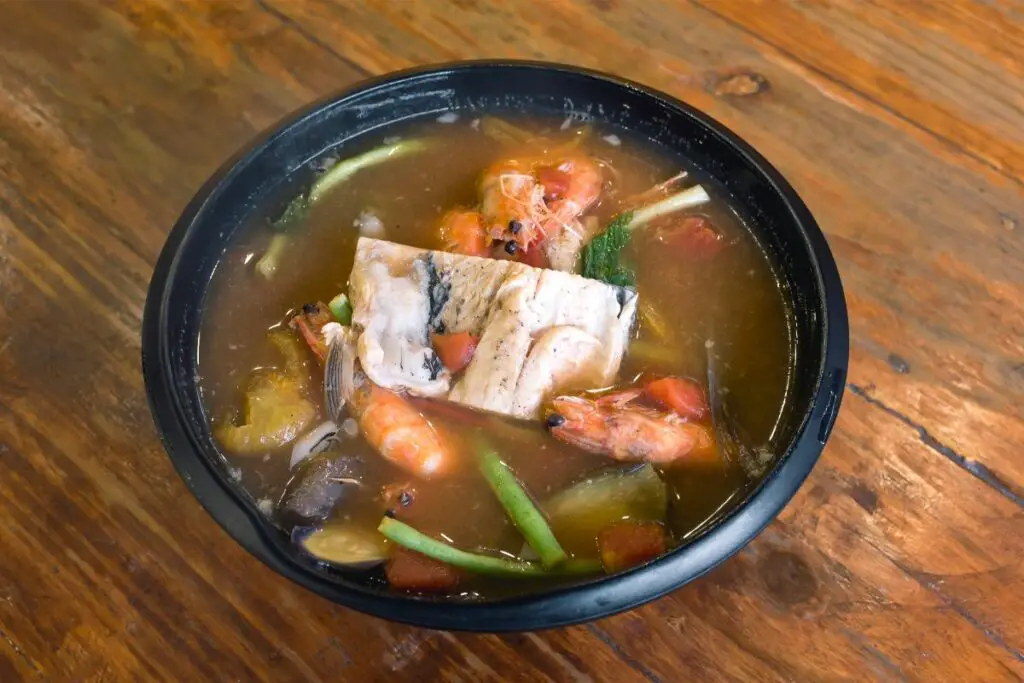 All the following Filipino soup recipes are mouth-watering and easy to make!
Beef Filipino Soup Recipes
Love beef? Then you need to try one of these flavorsome Filipino beef soup recipes.
Bulalo is one of the most popular soups in the Philippines! It's a savory soup that pulls its flavor from simmering beef shanks and bone marrow, mixed with vegetables for a hearty and fully satisfying meal.
This bulalo recipe is our go-to, offering authentic Pinoy flavors from a simple ingredients list that includes beef shank/brisket, beef bone marrow, potatoes, sweet corn, onion leeks, and cabbage.
Perfect on a cold night, this beef pares mami noodles recipe combines beef pares, beef neck bones, boiled eggs, and fresh miki noodles for a Chinese-inspired noodle soup dish that's comforting and high in protein.
Prep time is 15 minutes and cooking time is 2 hours – but believe us when we say the wait is worth it! The finished result offers the perfect balance of savory flavors with protein-rich ingredients that will make you feel fuller for longer.
Spanish-inspired Filipino cocido is a savory-flavored stew made with meat, which can be pork, chicken, and beef, added to ingredients that can include chickpeas, green beans, cabbage, and banana.
As a result, we especially love this Filipino cocido recipe since it includes all the above for a truly authentic taste! This recipe uses pork bacon hock, beef shanks, and chorizo, so it's also sure to satisfy any meat craving.
Feeling under the weather? This beef lauya recipe is sure to change that, offering a comforting, savory mixture of beef shank, sweet potatoes, bananas, and cabbage flavored with fish sauce, serrano peppers, and fresh ginger.
If that sounds good, you will be glad to know that this recipe requires just 15 minutes of prep time. It also involves only five steps until it's ready to serve, so it's really, really simple!
Nilagang baka, or nilaga for short, is a simple Filipino soup that won't disappoint if you're after something comforting and uplifting. It's a staple comfort food in Filipino cuisine and, what's more, it's super easy to make.
This savory Filipino soup recipe involves several main ingredients: beef shank, potatoes, green beans, cabbage, and spring onion. You can also add corn on the cob to make the soup look and taste more authentically Filipino!
Vegetarian Filipino Soup Recipes
Love veggies? Then here are the best vegetarian Filipino soup recipes that you need to try.
Mung beans are tasty, super nutritious, and ideal if you want to up your protein intake without eating meat. So for veggie-lovers and vegetarians, this vegetarian Filipino Monggo guisado recipe is sure to hit the spot.
The key here is to soak the mung beans in water overnight before cooking. Aside from that, this healthy Filipino soup recipe takes just 10 minutes to prepare and 20 minutes to cook. Super easy!
Sinigang is one of the most widely enjoyed soup dishes in the Philippines. It's eaten on its own and with rice, offering a distinct sour flavor that comes from one must-have ingredient: tamarind!
This Filipino sinigang recipe is about as authentic as it gets. You'll need sinigang tamarind soup mix, tomatoes, bok choy, daikon radish, potatoes, and pork ribs for the main ingredients. You can switch the pork for shrimp or add other veggies such as green beans and spinach!
If you prefer fish to meat, this sinibawang isda (fish soup) recipe will be right up your alley. It's quick and easy to make since it only takes 25 minutes in total and yields up to six servings to share.
The best thing about this Filipino soup recipe is that you can use any type of fish you prefer. Red snapper is what's recommended here, combined with ingredients that include tomato, ginger, red bell pepper, green onions, tomato, and calamansi juice.
Here's another Filipino soup recipe with sour flavors and nutritious ingredients that will comfort you and give you energy. Called dinengdeng, this is a regional favorite in the Philippines that's also ready to serve in no time – just 10 minutes!
The main ingredient in this recipe is fresh kangkong (water spinach). Just add it to bagoong monamon (salted anchovies), onion, white vinegar, fish sauce, and ground black pepper to get the flavor. If you're feeling extra hungry, serve it with fried garlic rice.
Lugaw translates to rice porridge, and it's a must-try Filipino staple that's both filling and comforting. If you're yet to try authentic Filipino lugaw and have white rice in your kitchen, we recommend that you try this recipe first!
Alongside long-grain rice, you'll need 4 to 5 boiled eggs, chicken stock, chicken bouillon cube, garlic, ginger, white onion, and the key ingredient for achieving the savory flavor: patis (fish sauce).
Chicken Filipino Soup Recipes
Love chicken? Then these Filipino chicken soup recipes are guaranteed to hit the spot and leave you feeling full and fully satisfied.
Chicken macaroni sopas are a delicacy in the Philippines. It's the perfect noodle soup dish on a winter's night, made by combining chicken with elbow macaroni.
Along with chicken and macaroni, this must-try Filipino chicken macaroni sopas recipe includes ham, celery, carrots, and chopped cabbage. Achieve the authentic flavor with chicken broth and fresh milk, or use evaporated milk for extra creaminess!
Pesang manok, also nilagang manok, is a mouth-watering alternative to the nilagang beef recipe we listed above. It's filling and comforting, as a result, using a combination of ingredients that include ginger, fish sauce, bok choy, cabbage, and onions.
To make this soup more filling, add potatoes or serve it with freshly steamed rice. This recipe yields four servings, but hey, we won't tell anyone if you decide to eat it all by yourself (yep, it tastes that good)!
If you want to try a soup that's truly authentic, this chicken and corn soup originates from Pampanga – a famous province in the Philippines. What's also great about this Filipino soup recipe is that it looks as good as it tastes, making it perfect for serving to guests!
This suam na mais recipe includes chicken thigh bones, corn on the cob, and baby spinach flavored with chicken stock, onion and garlic, pepper, and fish sauce. All in all, it will take you around one hour to make with just 15 minutes of prep time.
Arroz caldo is super popular in the Philippines – a certified staple in Filipino households and restaurants that's made from chicken thighs, boiled eggs, and rice. It's a filling lugaw-style dish, as a result, perfect for cold winter nights.
If you're still not sold, you'll love this recipe for its full-flavored taste, which comes from a mouth-watering combination of ginger, garlic, fish sauce, chicken stock, black pepper, and calamansi juice!
Last but not least, tinola – our personal favorite! Tinola is a savory and peppery Filipino soup made from chicken, ginger, garlic, onion, and more. It's the ultimate comfort food, and the best thing about it is that it's super healthy.
This tinola recipe is really easy to make, as it simply involves bringing the ingredients to a simmer for a total of 45 minutes cooking time. Add spinach, papaya, chayote, bok choy leaves to make it even more filling and nutritious!
Final Thoughts
And that wraps up our list of the 15 best Filipino soup recipes – all personal favorites that we think are filling, comforting, and super delicious.
So, if you're craving a steamy soup to lift your mood and spoil your taste buds, what are you waiting for? Try one of the above Filipino soup recipes today!
Frequently Asked Questions
What Is The National Soup Of The Philippines?
Although the Philippines has many popular soup dishes, sinigang is a Pinoy favorite, loved for its distinct sour taste. Sinigang can be made with pork, chicken, or shrimp and includes vegetables such as spinach, cabbage, green beans, and bok choy.

What Is A Filipino Comfort Food When Sick?
There are many must-try Filipino comfort foods in the Philippines. Just some popular Filipino comfort foods include sinigang, tinola, nilaga, lugaw, pancit, and arroz caldo, loved for their filling, flavorsome ingredients.
The 15 Best Filipino Soup Recipes
Course: Other Recipes
Directions
Choose a recipe
Collect your ingredients
Make your dish
Enjoy.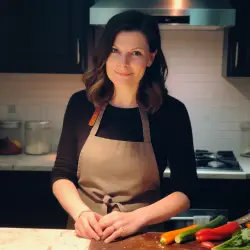 Latest posts by Barbara Hunt
(see all)