French cuisine is often associated with escargot and pastries, but the dishes from this country have so much more to offer.
And the elegance of French cuisine is not only evident in its main courses but also shines brightly in its side dishes.
These accompaniments, often subtle yet packed with flavor, have the power to transform an ordinary meal into a gourmet experience.
Below, we share 20 of our most beloved French side dishes inspired by some of the best French chefs. We've sampled many a side dish to bring you this list of recipes – each of which is a true reflection of the beauty of French cuisine.
If you're ready to embrace French bistro vibes and stun your guests with delicious food they won't forget, keep reading.
Originating from the sun-drenched regions of Provence, Ratatouille is a celebration of fresh garden produce.
This classic, rustic Provençal vegetable medley showcases the region's freshest ingredients like bell peppers, eggplants, and tomatoes, and had to take pride of place to start our list.
Flavor Profile: A harmonious blend of tender vegetables enriched with herbs like thyme and rosemary.
Our Top Tip: Cook each vegetable separately before combining them to retain individual flavors.
Pairing: Wonderful with grilled meats or as a standalone vegetarian dish.
A timeless classic from the foothills of the French Alps, Gratin Dauphinois is a testament to the indulgence of French cooking.
This creamy potato dish incorporates layers of thinly sliced potatoes and cream and has enjoyed popularity across the world as one of the most favored French side dishes.
Flavor Profile: Rich, creamy, and indulgent with a beautifully browned top.
Our Top Tip: Use a mandoline for uniformly thin potato slices.
Pairing: Perfect alongside roast meats, especially lamb.
These slender, elegant green beans, when paired with almonds, are reminiscent of fine dining bistros scattered across Paris.
Flavor Profile: Crisp green beans meet the nutty crunch of almonds.
Our Top Tip: Blanche beans briefly to retain their vibrant color.
Pairing: A light accompaniment for poultry or fish.
This side dish combines potatoes and onions thinly sliced and baked in stock.
Rooted in traditions where local bakers played a role in its creation, this recipe offers comfort with each bite.
Flavor Profile: Earthy potatoes, sweet caramelized onions, and a rich stock infusion.
Our Top Tips: Opt for a good-quality stock to elevate the flavors.
Pairing: Goes hand in hand with roasted meats.
Direct from the culinary capital of Lyon, this salad embodies the robust flavors the city is known for.
This hearty salad combines frisée lettuce, crispy bacon, and a poached egg.
Flavor Profile: Bitter greens contrasted by salty bacon and creamy egg yolk.
Our Top Tip: Ensure the egg is poached to perfection for a runny yolk.
Pairing: A meal in itself or alongside a simple grilled steak.
From the volcanic regions of Le Puy, these unique green lentils bring savory robustness to French tables.
This is a tasty, protein-packed side with green Puy lentils as the star.
Flavor Profile: Earthy lentils complemented by a tangy vinaigrette.
Our Top Tip: Don't overcook the lentils; they should retain a slight bite.
Pairing: Perfect with roast chicken or grilled sausages.
This dish showcases the harmonious balance that French cuisine often achieves, marrying bitter endives, creamy, strong Roquefort cheese, and crunchy walnut flavors and textures.
Flavor Profile: Bitter, creamy, and nutty all in one bite.
Our Top Tip: Drizzle with a walnut oil vinaigrette to intensify flavors.
Pairing: Complements grilled meats, especially pork.
Hailing from the rugged terrains of Aubrac, Aligot is more than a dish; it's an experience of cheese and potato in symphony.
This rich and indulgent side dish is a real crowd-pleaser.
Flavor Profile: Creamy, stretchy, and utterly comforting.
Our Top Tip: Use a strong-flavored cheese and opt for a variety that will give you the signature stretch.
Pairing: Ideal alongside sausages or hearty meats.
A cherished ingredient in the French pantry, these delicate beans embody the simplicity and finesse of French cooking.
These tender green beans are often cooked with lamb or garlic.
We love this particular recipe from Ina Garten, who has perfectly captured the essence of French cuisine.
Flavor Profile: Soft and buttery with a delicate flavor.
Our Top Tips: Soak overnight to speed up the cooking process.
Pairing: Traditionally paired with lamb.
A testament to the French's ability to elevate humble ingredients, these shallots, when caramelized, become a gourmet addition to any meal.
We love how when shallots are slowly cooked to perfection, they release their natural sweetness.
Flavor Profile: Sweet, soft, and aromatic.
Our Top Tip: Low and slow is the key to perfect caramelization.
Pairing: Enhances dishes like duck or roast beef.
Reflecting the grandeur of French patisseries, these golden, piped potato morsels are as delightful in taste as they are in appearance.
Flavor Profile: Crispy exterior meets a fluffy and buttery interior.
Our Top Tip: Use a piping bag with a star nozzle for the classic shape.
Pairing: A royal accompaniment to any roast.
Evoking the fragrances of Provencal summers, these halved tomatoes, infused with herbs and then baked, are a bite of the Mediterranean.
Flavor Profile: Juicy tomatoes meet a crispy herb-infused crust.
Our Top Tip: Opt for ripe, firm tomatoes for best results.
Pairing: Ideal with grilled fish or poultry.
Utilizing the unique red rice from the wetlands of Camargue, this salad is a vibrant addition to the French repertoire.
Flavor Profile: Earthy rice, crisp veggies, and a tangy punch.
Our Top Tip: Rinse rice thoroughly before cooking to remove excess starch.
Pairing: Serves well with grilled chicken or shrimp.
Foraging is an age-old tradition in France, and this dish pays tribute to the wild treasures of French forests.
It's a simple dish – a mix of wild mushrooms sautéed in butter and garlic – that is the perfect accompaniment to meat.
Flavor Profile: Earthy, buttery, and aromatic.
Our Top Tip: Don't overcrowd the pan; mushrooms should sauté, not steam.
Pairing: Complements steak or game meats.
A street-food gem from the azure coasts of Nice, Socca is a crispy pancake that narrates tales of the sea and sun.
This thin chickpea flour pancake is often seasoned with rosemary.
Flavor Profile: Nutty and slightly crispy with herby undertones.
Our Top Tip: Use a very hot oven or broiler for a crispy crust.
Pairing: A versatile dish, it pairs well with a range of proteins or as a standalone snack.
A culinary jewel from the French Riviera, Pissaladière showcases caramelized onions, olives, and anchovies atop a soft dough. It's reminiscent of the Mediterranean's salty breeze.
Flavor Profile: Sweet onions offset by the salty depth of anchovies and olives.
Our Top Tip: Use good quality olive oil for drizzling to enhance the flavors.
Pairing: Excellent with a chilled rosé on a summer day or to accompany a light salad.
Hailing from the Alsace region, Tarte Flambée, or Flammekueche, is a thin-crust pizza topped with crème fraîche, onions, and bacon, painting a picture of Alsatian culinary traditions.
Flavor Profile: Crisp crust supporting creamy, smoky, and slightly sweet toppings.
Our Top Tip: Use a pizza stone to achieve a perfectly crispy crust.
Pairing: Pairs brilliantly with Alsatian wines like Gewürztraminer and as an accompaniment for a salad.
This dish brings together earthy roasted beets and a tangy walnut vinaigrette.
The natural sweetness of the beets contrasts beautifully with the nutty and sharp flavors of the dressing, making it a vibrant addition to any meal.
Flavor Profile: Earthy beets contrasted with the rich nuttiness of walnuts and a tangy vinaigrette.
Our Top Tip: Roast the beets until they are just tender to maintain their natural sweetness.
Pairing: Best accompanied with grilled poultry or fish and pairs elegantly with a glass of Pinot Noir.
A classic bistro dish, this salad made from julienne celeriac tossed in a mustardy mayonnaise dressing is the epitome of rustic French elegance.
Flavor Profile: Earthy celeriac with a tangy and creamy dressing.
Our Top Tip: Use a mandoline slicer to achieve thin, even strips of celeriac.
Pairing: Fantastic alongside cold cuts or roast chicken.
Tender leeks bathed in a sharp vinaigrette is a celebration of the French's ability to make humble vegetables the star of a dish.
Flavor Profile: Soft, sweet leeks contrasted with a zingy vinaigrette.
Our Top Tip: Ensure the leeks are well-cleaned to remove any grit.
Pairing: Perfect as a starter or alongside grilled fish.
In Summary
We hope you've enjoyed diving fork-first into the world of French side dishes. It's a journey of flavors, textures, and culinary traditions.
We love the refreshing hit of Tomato Provençal, but if you're craving potatoes, then Pommes Duchesse is a must!
Whether you're in the mood for something creamy, crispy, or earthy, French cuisine has a side dish ready to whisk your taste buds straight to the heart of France.
Bon appétit!
If you're ready for more inspiration, take a look at our pick of the best French cookbooks.
20 Delicious French Side Dishes To Wow Your Dinner Guests
Course: Other Recipes, Recipes
Directions
Choose your favorite recipe from above
Gather your ingredients
Prepare your French side dish
Enjoy.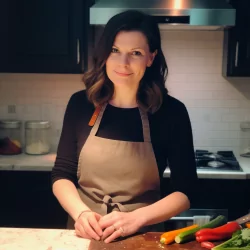 Latest posts by Barbara Hunt
(see all)