Ina Garten has many gratin recipes, but her zucchini gratin will surprise you with how good it is!

Golden and crispy top, filled with thick slices of zucchini baked in a salty & buttery cheese sauce. If you are looking for delicious and easy side dish, you have to try Ina Garten's zucchini gratin recipe.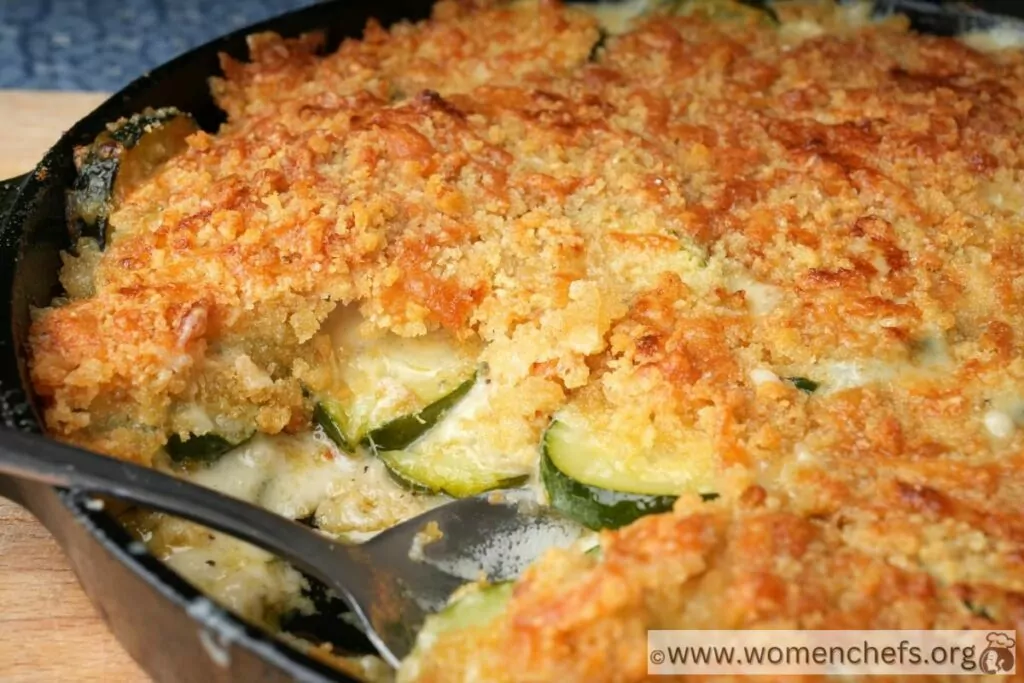 The crunch from the topping combines perfectly with the zucchini, which is soft but still firm.
The zucchini slices give this dish more of a bite than something like Ina's spinach gratin. The spinach gratin is also delicious and is worth a try but the spinach is softer (than zucchini slices) and gives the dish a different, more velvety texture.
Ina's zucchini gratin is probably closer in texture to a potato gratin. In both cases the dish is filled with a soft vegetable that you can really bite and sink your teeth into.
Top Tips When Making Ina's Zucchini Gratin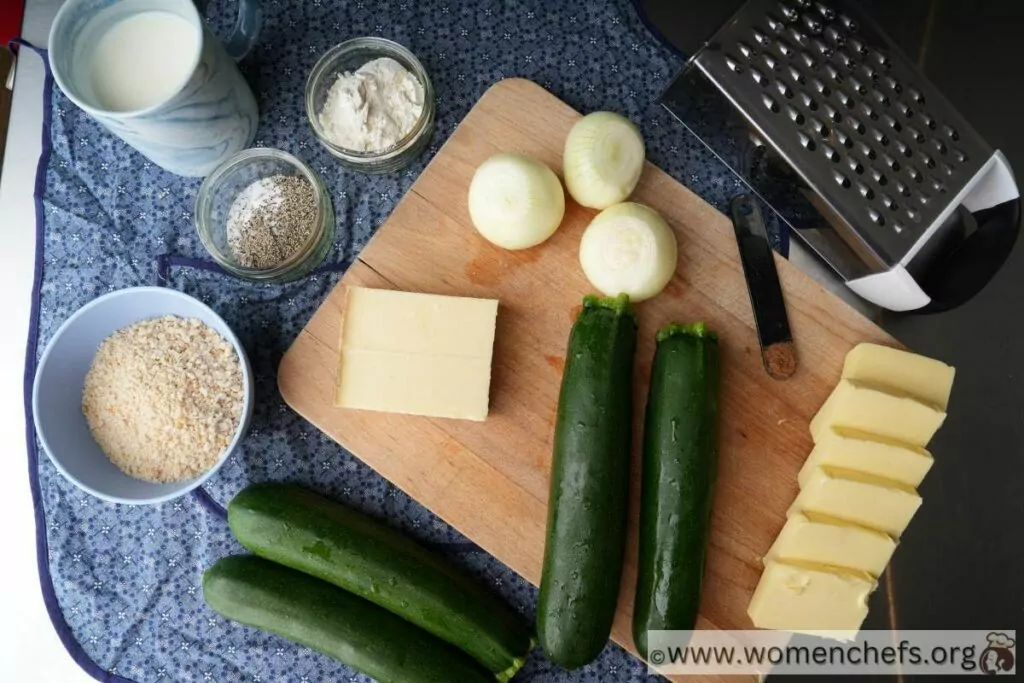 When I first made Ina's gratin recipe I found it relatively easy to make.

However, as I have made it a couple of times now for my family, I found ways to make it better and also be more efficient.

Here are my tips:
Do not overcook the zucchini! When you cook them in the pan with the onions before they go in the oven, leave them slightly crunchy and al-dente. The last thing you want is a 'mushy' mess.
Make sure your oven is preheated. If the gratin goes in the oven before the oven is heated, the breadcrumbs will soak up the sauce and won't get as crispy. You want to put the gratin in a hot oven, so the top crisps up nicely.
Use a big pan! When you saute your onions and zucchini, make sure you use a large pan. If you crowd it too much, nothing will be cooked evenly. 
Cook off the flour. The recipe calls for flour, which is added once your onions and zucchini are softened. Cook the flour for a couple of minutes with your vegetables before adding the milk, otherwise you may end up with a floury-tasting sauce.
5 Delicious Mains to Pair with Ina Garten's Zucchini Gratin
Barefoot Contessa's zucchini gratin works with many main dishes.
Because the zucchini is thick and chunky (not like a velvety mash potato for example), you don't need to pair it with something overly saucy.

Some of my favorite pairing are:
Grilled Chicken Breast: The chicken breast provides a lean and protein-rich element that complements the creamy texture of the zucchini gratin. The flavor from grilling provides a nice contrast.
Baked Salmon: Salmon and zucchini is a marriage made in heaven! Both of these work so well together. Pair your zucchini gratin with salmon and cooked potatoes for a satisfying and nourishing meal.
Pasta with Pesto: The fresh and herby flavors of basil pesto bring a vibrant contrast to the zucchini gratin.
Vegetarian Stuffed Peppers: The medley of flavors in the peppers complements the creamy zucchini gratin. I served the gratin with peppers stuffed with beans and quinoa, with an extra side of avocado and it was delicious!
Pork Chops: Roasted or grilled pork chops with caramelized apples create a sweet and savory balance. The sweetness of the apples contrasts with the savory zucchini gratin.
Other ways of eating the gratin includes serving it at your Thanksgiving dinner or at a buffet for your guests.
Optional Recipe Twists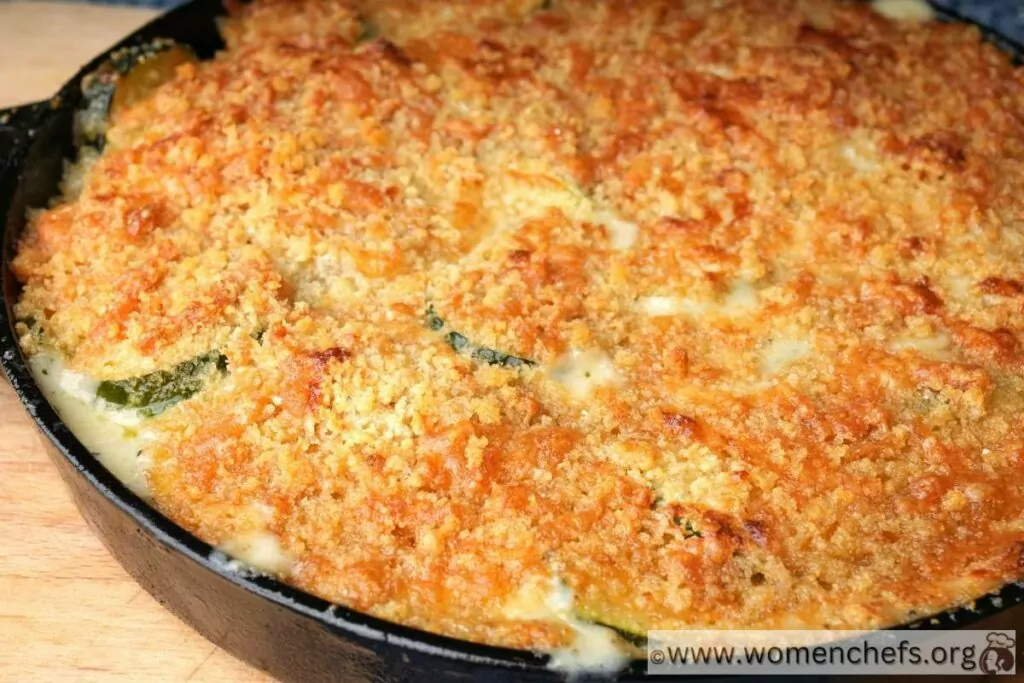 I love Ina Garten's recipes because they are delicious and also because they are easy to tweak for any reason – you might not have an ingredient, you might not like one of the original ingredients, or you might just want to add your own touch.
The Barefoot Contessa's zucchini grain is no different. Here are some ideas of changing it up a bit:
Add Herbs: Mix fresh herbs like thyme, rosemary, or basil into the sautéed onions and zucchini for an aromatic twist.
Garlic Parmesan Crust: Add minced garlic to the breadcrumb and cheese topping for a garlic-infused Parmesan crust that adds depth and richness to the gratin. Garlic especially works so well with zucchini.
Sundried Tomato and Feta Variation: Introduce a Mediterranean twist by incorporating chopped sundried tomatoes and crumbled feta cheese into the zucchini mixture before baking. This adds a burst of tangy and savory flavors.
Crunchy Almond Crust: Replace traditional breadcrumbs with crushed almonds for a nutty, crunchy topping that complements the creamy zucchini filling.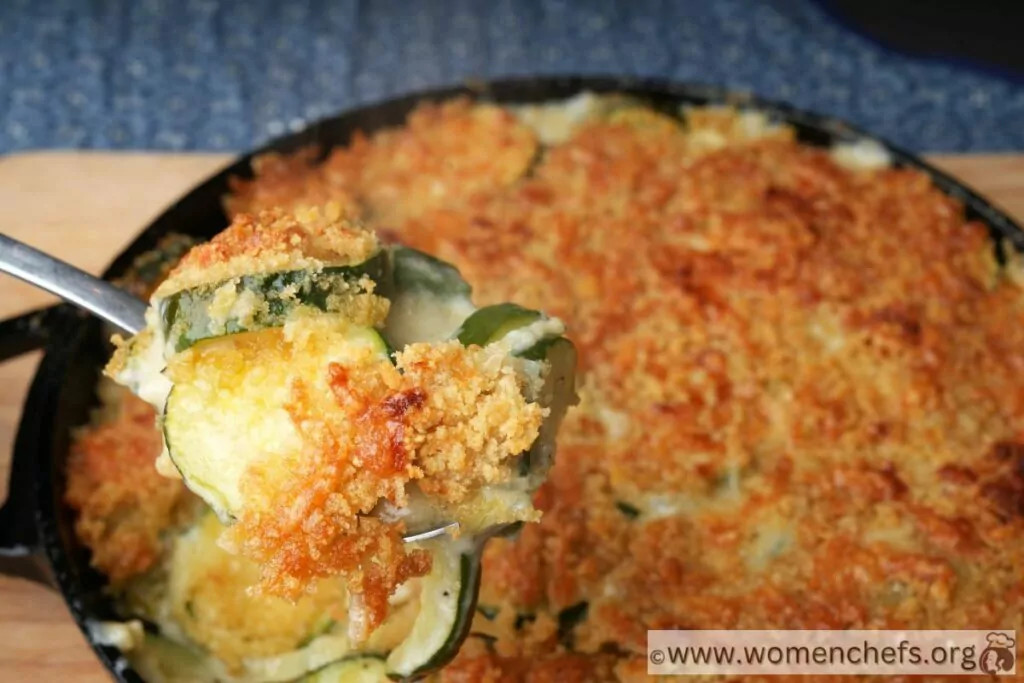 Ina Garten Zucchini Gratin Recipe
Course: Sides
Cuisine: American
Difficulty: Easy
Indulge in Ina Garten's Zucchini Gratin—a savory delight of zucchini, Gruyere, and nutmeg. Elevate your table with this easy and flavorful dish.
Ingredients
6 tablespoons unsalted butter

3 large onions, peeled and sliced thinly

4 large zucchini, sliced roughly 1/4-inch thick

2 tablespoons all-purpose flour

1 cup of warm milk

3/4 cup fresh bread crumbs (I used panko since they crisp up much better)

3/4 cup grated Gruyere cheese or other cheese of choice

2 teaspoons of salt

1 teaspoon freshly ground black pepper

1/4 teaspoon ground nutmeg
Directions
Preheat your oven to 400F.
Warm a large sauté pan and melt 5 tablespoons of the butter on medium heat. Add the sliced onions to your melted butter, and cook them until softened. It should take roughly 20 minutes or so.
Next, add the sliced zucchini to your pan and cover the pan. Cook them for about 10 minutes, stirring occasionally.
Remove the lid from the pan, and add your seasonings; pepper, salt, and nutmeg.
Once the spices and seasonings are added, add the flour and mix constantly for about 3-5 minutes (be gentle not to break the zucchini) until the flour is cooked off, before adding the milk.
Carefully pour the warm milk into the pan with the zucchini, and simmer for about 5-6 minutes, until the milk has mixed with the flour and thickens.
Carefully transfer the mixture onto an oven-proof 8 x 10 inch dish.
In a bowl, mix together the breadcrumbs and grated cheese, then sprinkle the cheesy breadcrumbs into the pan. Cut remaining 1 tablespoon of butter into small pieces and scatter on top. Add the dish to the oven.
Bake in the oven for about 20 minutes, or until the top is golden and crispy.
Ina Garten's Zucchini Gratin Frequently Asked Questions:
1. How Do I Store Leftover Zucchini Gratin?
Once the gratin is fully cooled, wrap the pan with foil and refrigerate. Leftovers can last up to 4 days.
2. Can I Freeze Zucchini Gratin?
Yes, zucchini gratin can be frozen. Once the gratin is cooled, slice it into portions and transfer each to individual small freezer-friendly containers. Place containers in the freezer. The gratin should last well in the freezer for up to 2 months.
3. How Do I Reheat Zucchini Gratin?
Cut portions out of the gratin, and either place them on a baking tray and warm them through in the oven for about 15 minutes. Alternatively, you can microwave individual portions.
More Ina Garten Recipes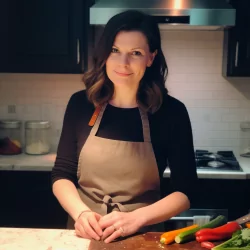 Latest posts by Barbara Hunt
(see all)