Curry chicken salad is incredibly versatile, packed with flavour and is super easy to make. It might just become one of your your favorite go to salads for many occasions.
Ina Garten's curry chicken salad recipe delivers a perfect harmony of flavor and texture. Juicy chunks of chicken, mixed with creamy mayonnaise, tangy chutney and a curry powder kick. Crunch from the celery, sweetness from the raisins and topped with salty, roasted cashews.
If you are looking for a comforting and easy dinner, lunch, or meal prep meals for the week, this Barefoot Contessa curry chicken salad is exactly what you need!
Its also one of our favourite chicken salad recipes inspired by Ina Garten.
We love the curry flavour in this dish, but if curry's not your thing, there are many other easy chicken salad recipes to choose from.
Why Make Ina Garten's Chicken Curry Salad?
Ina Garten is known for her easy to follow recipes. They are designed for at home cooks who want a no fuss approach to creating something that is both delicious and impressive. Ina's curry chicken salad is no different.
Here's what I found when I made this salad for my family recently:
It's relatively easy to make.
It's a cheap filling and nutritious meal.
Leftovers taste even better the next day.
It packs well for lunch work or school.
It's freezer-friendly.
The salad works as a great side dish too, or a sandwich filling.
And honestly, the reasons are just never-ending. My family absolutely loves this salad.
If you are looking for a more traditional chicken dinner, there are so many amazing and easy chicken dinner recipes to choose from, including some parmesan chicken recipes inspired by Ina Garten.
Top 4 Tips When Making Curry Chicken Salad Ina Garten Style
Here are my 4 top tips:
USE CHICKEN THIGHS: They're fattier than chicken breast, which makes them juicier. Chicken thighs are cheaper too!
AVOID OVERCOOKING: This is critical, especially if you are using chicken breast. I always use a food temperature probe, and regularly check if it has reached the right safe temperature (which is 165°F (74°C). Anything above that will start to dry it out.
LET THE COOKED CHICKEN REST: Do not cut up the chicken while it's still hot. Other than being too hot to handle, just like steaks, chicken needs to rest, otherwise the juices will run off and the meat can go dry. Resting it between 15-25 minutes should be enough time.
REFRIGERATE BEFORE EATING: Make sure you refrigerate the salad once it's made for a minimum of 1 hour. This really helps the flavor, as the ingredients blend together.
Making Ina's Curried Chicken Salad – With Photos, Tips & Tricks
I am going to quickly run you through the steps of making this delicious Ina Garten chicken recipe, and show you what each step should look like along the way.
Head to the next section if you dont need the photos and want to get straight to the ingredients list and simple directions.
#1. Preheat Your Oven
A lot of home cooks make the mistake of not preheating their oven first, before placing their food in it.
Before you start the cooking process, put the oven on, so when the chicken is prepared, it's ready to go in!
#2. Prepare The Chicken
Generously rub the chicken with seasonings and oil. Space them out on a pan. If they are too close together the chicken may not brown or crisp as well.
#3. Cook The Chicken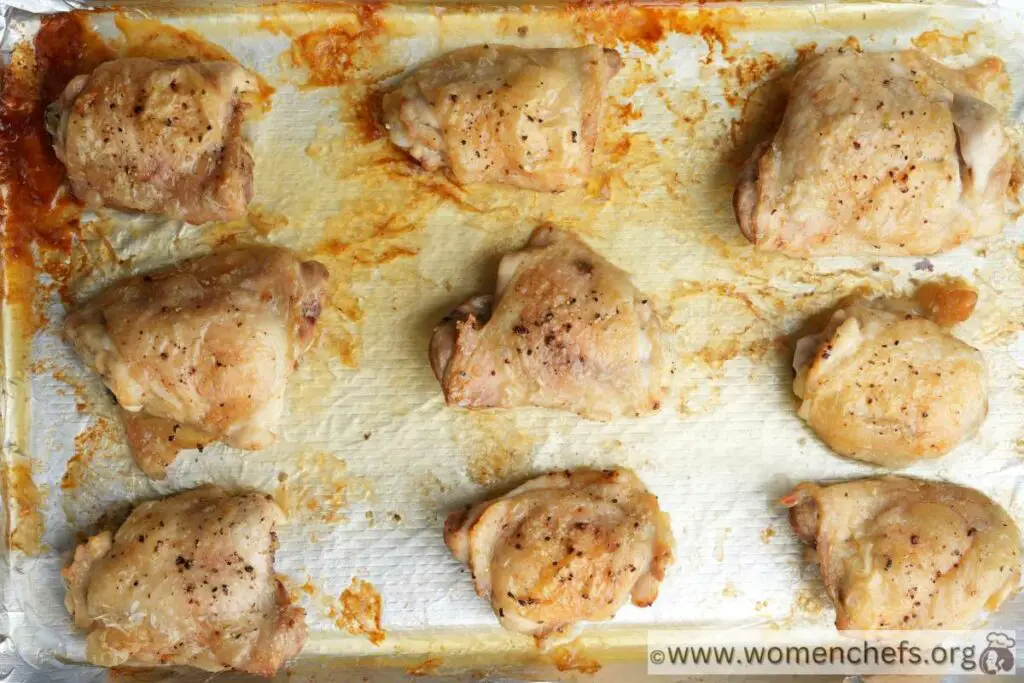 Check on the chicken after about 20 minutes, and then again every 5 minutes, until it reaches the right temperature. You can use a probe if that gives you more confidence. If you are busy and don't have the time to check it regularly, it should typically take between 35 to 40 minutes to cook through and reach a golden brown crisp on the outside.
#4. Prepare The Curry Sauce
While the chicken is roasting in the oven, it's time to prepare the sauce!
I personally love using a food processor. Measure the sauce ingredients directly into the food processor bowl, it makes the process so much easier and less to clean up! A quick pulse and the sauce is ready.
#5. Rest And Dice The Chicken
Once the chicken is cooked, let it rest outside the oven for about 20 minutes.
Once it's cooled slightly and rested, remove the bone from the thighs if using, and dice up the meat into chunks. You can keep the skin on or remove it – its completely up to you. Crispy chicken skin always goes missing in our kitchen.
#6. Mix It All Up!
Now is the easy part; using a deep bowl, combine the chicken, curry sauce, and any add-ins, such as raisins and chopped scallions.
Mix well, then cover the bowl, and refrigerate the salad for a minimum of 1 hour, so the flavors mingle with each other.
After this, its ready to eat!
Ina Garten's Curry Chicken Salad
Course: Ina Garten
Difficulty: Easy
Savor the rich flavors of our this Ina Garten Curry Chicken Salad, a delightful twist on a classic favorite. Perfect for a refreshing, satisfying meal.
Ingredients
6 chicken thighs with the bone and skin

2 tablespoons of olive oil

1 cup of mayonnaise

¼ cup of chutney of choice I used onion chutney

⅓ cup dry white wine (I like using pinot grigio)

3-4 tablespoons curry powder

2 celery stalks

2 scallions chopped

¼ cup raisins

1 cup of cashew nuts I used roasted and salted

Salt and pepper
Directions
Preheat your oven to 350 degrees F.
Massage the skin of the chicken thighs with the olive oil in a deep bowl.
Season the chicken with your preferred amount of salt and pepper. I used roughly 1/2 tsp of salt and 1/3 tsp of pepper.
Place the chicken thighs in a large baking tray.
Put the tray with the chicken into the oven and roast them until they're fully cooked and appear golden, which should take roughly 35 to 40 minutes.
Remove the chicken from the oven and let it cool and rest for about 20 minutes.
Once the chicken has cooled down, separate the meat from the bones and dispose of the bones. Keep the skin if you want. Cut the chicken into medium-sized pieces.
To prepare the curry sauce, combine the mayonnaise, wine, chutney, curry powder, and ½ teaspoon of salt in a food processor. Blend the mixture until it's smooth.
In a large bowl, toss the diced chicken with the curry sauce.
Incorporate the celery, scallions, and raisins, and mix them thoroughly.
Refrigerate the curry chicken salad for approximately 1 hour or more to allow the flavors to meld.
Just before serving, add the cashews and serve!
Notes
Store any leftovers in an airtight container in the fridge. Consume within 3 days.
Ina Garten's Curried Chicken Recipe Frequently Asked Questions:
Is Ina Garten's Curry Chicken Salad Healthy?
While a typical salad would be considered healthy, Ina's chicken salad can also be considered relatively healthy. The only aspect that makes the salad less healthier, is the use of mayonnaise. However, as a whole the salad can be considered a great choice for a healthy balanced diet.
How Do I Store The Leftover Chicken Salad?
You can either store the salad in the fridge to eat later, or in the freezer for long-term storage.
If you are using the fridge method, transfer any leftover chicken salad to an air-tight container, and refrigerate immediately. Consume the salad within 3 days.
If you are freezing it, you can use freezer-friendly containers or even freezer bags. Make sure the bags or containers are tightly sealed. The salad should last in the freezer for up to 2 months.
How Do I Serve The Chicken Salad?
The salad is quite filling, so it's absolutely fine on its own, however, pairing it with a leafy greens, like lettuce can work wonderfully. Additionally, the salad works great as a sandwich filling too!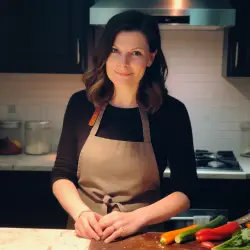 Latest posts by Barbara Hunt
(see all)