Low-FODMAP diets are a lifeline for those suffering from digestive disorders such as IBS, Crohn's disease and celiac disease.
While it can be a complicated and sometimes intimidating diet there are lots of excellent cookbooks to help you figure it out.

We have found 11 female chef low-FODMAP cookbooks you do not want to miss if you are suffering from one of these health issues. 
This cookbook contains more than 100 recipes of low-FODMAP dishes which can be enjoyed by those who suffer from a range of digestive disorders.
There are recipes for breakfast, lunches, dinners and snacks which are all easy to follow.

Written by Alana Scott, an accredited dietitian and IBS sufferer, she has a great perspective on the issues facing those who regularly suffer stomach upset after eating certain foods.

She gives great advice and guidance on how to approach the diet, stocking your pantry and making the most of seasonal low-FODMAP produce.

Pros
Over 100 recipes
Advice and guidance
Color photos
Cons
Lunch recipes are not full meals
Le Cordon Bleu trained chef Zorah Booley used her expertise to develop lots of tasty low-FODMAP recipes after she was diagnosed with IBS.
These allowed her to relieve her own symptoms but also to help others in a similar situation.

With her knowledge and experience Zorah presents dishes such as Creamy Pesto Rosso Linguine or Baked Apple Cider Donuts without any side effects.
The cookbook makes it easy for you to manage your digestive issues naturally without relying on medication.

You'll find some gorgeous color photos of the finished dishes to entice and inspire you.

Pros
Easy to follow recipes
Uses everyday ingredients
Great photos of finished dishes
Cons
Contains some dairy products
Irritable bowel syndrome or IBS is a distressing and debilitating condition and affects millions of people worldwide.
This low-FODMAP cookbook is especially designed to help those with IBS eat well and have a nutritious diet.

As an IBS sufferer herself Patsy knows all too well the limitations that it can impose.
So she has found 56 delicious recipes which can be enjoyed not just by IBS sufferers but also by those affected by Crohn's disease, ulcerative colitis and gluten sensitivity.

This is a book that will help those with IBS create their own personalized low-FODMAP diet.

Pros
56 tasty recipes
Detailed information
Color photos
Cons
Recipes for a small part of this book
If you are looking for a diet based solution to your digestive problems rather than taking medication then this is the book for you.
With more than 130 delicious recipes to choose from you can customize your own gut-friendly plan to relieve your symptoms.

The recipes are easy to follow, and you also get a very detailed overview of what a low-FODMAP diet entails and why it works.
It also clarifies a lot of the often confusing information available online about what foods are and are not low-FODMAP.

Pros
Detailed information on how low-FODMAP diet works
130 tasty recipes
Advice on stocking low-FODMAP pantry
Cons
Recipes can be time consuming
Research has shown that 70%-75% of IBS sufferers who follow a low-FODMAP diet experience a significant reduction in symptoms.
This 6-week plan and cookbook is a step by step program of recipes for integrating low-FODMAP foods into your diet.

Everyone is different, and some people react badly to various foods while others will tolerate them well.
That is why it takes a while to work out which foods you need to avoid and which you can include in your diet.
This book helps you to do that.

Pros
Meal planning
Detailed information
Recipes and diary pages
Cons
Recipes can be complicated
As a sufferer of gut sensitivity for many years Emma Hatcher was advised to try the low-FODMAP diet by her doctor and her life changed.

Through this book and her lifestyle blog She Can't Eat What?! Emma has shared her experience and knowledge of low-FODMAP.
This cookbook has 100 recipes which are easy to follow, taste delicious and will not cause you digestive discomfort.

A great recipe book for anyone who feels they can't eat anything without dire consequences for their health.

Pros
100 recipes
Easy to follow
Great photos 
Cons
Recipes use metric system
The Low-FODMAP Cookbook combines taste and nutrition to give you the most delightful recipes that you can enjoy without discomfort.
It includes a low-FODMAP eating plan and explains in detail which foods are not allowed under this regime and why.

With 100 delicious recipes you will be able to soothe your digestive difficulties and enjoy some tasty dishes.
As an IBS sufferer Dianne Benjamin understands the problems faced by people who have trouble digesting these short chain carbohydrates.

The book contains some beautiful photographs of the finished dishes making the recipes even more appealing to readers.

Pros
100 recipes
Great photos
Meal planning 
Cons
Some recipes contain dairy products
Final Thoughts

There are many people in the world who cannot eat what we consider regular food and need to modify their diet for the sake of their health.
The cookbooks that we have featured here go a long way toward helping people with digestive disorders to live a normal life.

We hope that you have benefited from this guide and that you have found it helpful and informative. 
Frequently Asked Questions
What Does FODMAP Stand For?
FODMAP is an acronym for fermentable oligosaccharides, disaccharides, monosaccharides and polyols, the short chain carbohydrates that the small intestine can't absorb properly.
What Does FODMAP Do To Your Body?
FODMAP molecules draw more fluid into the bowel and are rapidly fermented by colonic microflora which produces gas.
This causes pain and discomfort for the sufferer.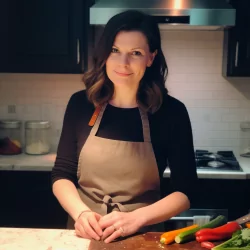 Latest posts by Barbara Hunt
(see all)