Food has been bringing people together for many years, and TV chefs bring this joy into the living rooms of many ordinary people every day.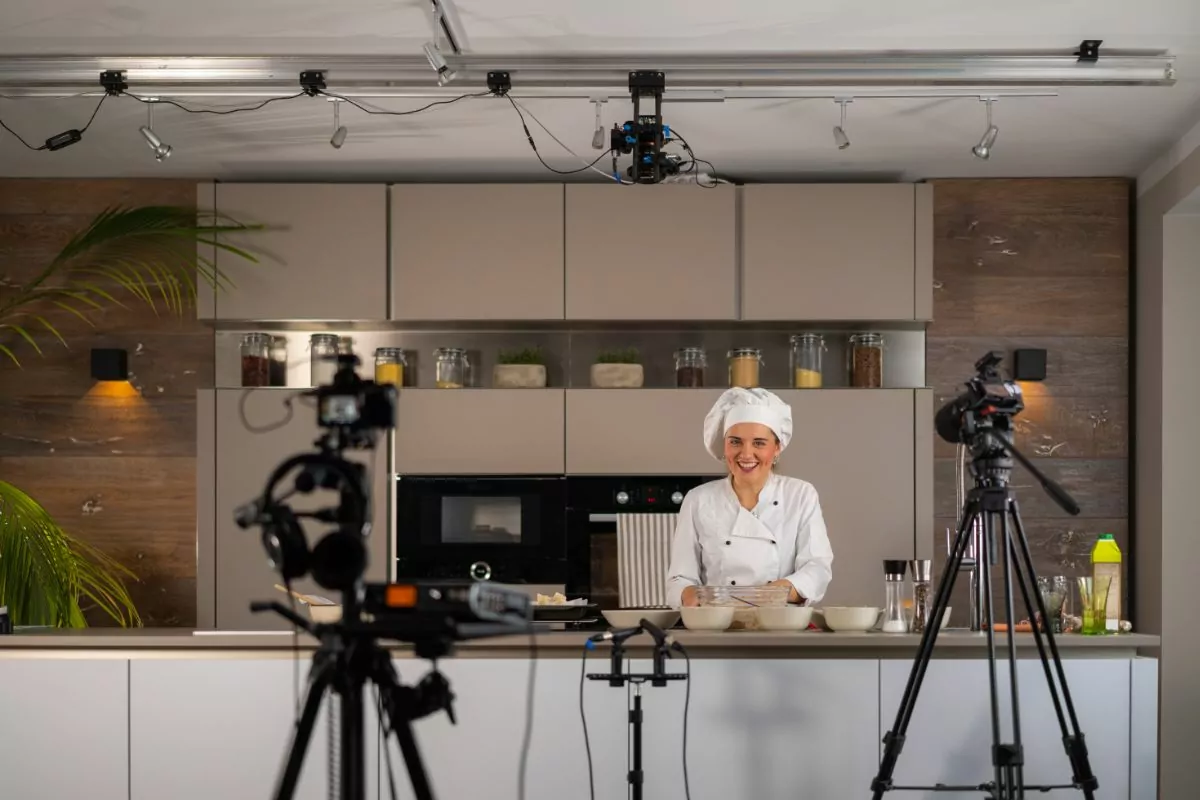 We are very much used to our TV screens being dominated by male chefs, but we want to shift the focus to the many fantastic female TV chefs out there!
Cooking is one of the most male-dominated professions, which makes it a lot more difficult for female chefs to find success.
However, there are lots of female TV chefs out there that we absolutely love, and we're here to blow their trumpets!
In this article, we have compiled a list of the best female TV chefs that we adore. After reading this article, we hope that the spotlight will shift to these impressive women and their groundbreaking work.
1. Clare Smyth
If you've never heard of Clare Smyth, we hope that this article can put her on your radar. She is a very impressive Northern Irish chef who has had lots of different TV appearances.
Smyth is the first British chef to have earned three Michelin stars, and she still holds this title. 
Smyth is the owner of many different restaurants, including Core by Clare Smyth in London and Oncore by Clare Smyth in Sydney.
She also received the award for World's Best Female Chef which she received in 2018. This was awarded to her by the World's 50 Best Restaurants. 
In terms of TV appearances, Clare Smyth has had a very high-profile career, bringing her into our living rooms and making her a household name.
She has appeared on many television shows including Masterchef and Saturday Kitchen. Her high-profile career landed her the opportunity to cater for Prince Harry and Meghan Markle's wedding! 
Smyth attended culinary college and started her career working at Michelin House in London. She then became a head chef at the restaurant in the St Enodoc Hotel in Cornwall. 
Following this, she earned herself a job at the Restaurant Gordon Ramsay, and worked her way up to become a head chef there! This made her the first female chef in the UK to run a restaurant with three Michelin stars.
2. Rachael Ray
Rachael Ray is an American chef who has appeared on TV multiple times. She hosts a daily lifestyle program named Rachael Ray and she also hosts the series 30 Minute Meals. 
She has appeared on many different TV shows including Rachael Ray's Tasty Travels, Rachael Ray's Week In A Day, and Rachael Vs Guy: Celebrity Cook-Off.
These are just a few examples of Ray's TV appearances, and her TV shows have won her three daytime Emmys! 
Ray started her career working in various stores. During her time as a buyer at a market named Cowan & Lobel, she developed her concept for 30 Minute Meals.
She found that lots of people were reluctant to spend time cooking, so she taught a course that highlighted how to make meals in under 30 minutes. 
When these classes were a success, she was asked to host a weekly segment on WRGB's newscast, an affiliate of CBS. This was the catalyst that kick-started her career as a TV chef!
3. Giada De Laurentiis
Giada De Laurentiis is a very successful Italian-American chef and TV personality. She is an adored TV chef, and we absolutely love it when she comes on our TV!
As a TV chef, she has won many awards that set her aside from others of her kind. She won a Daytime Emmy Award for being an Outstanding Lifestyle Host, and a Gracie Award for being the Best Television Host. 
Laurentiis was born in Italy and moved to Southern California during her childhood. She attended school in Los Angeles and then went on to study at Le Cordon Bleu in Paris, where she aspired to become a pastry chef. 
She started her working life as a professional chef and appeared as a food stylist in the Food and Wine magazine in 2002. She was then contacted by the Food Network.
Giada's daytime cooking show on the Food Network was named Everyday Italian. She then went on to host Giada at Home, a show by Food Network. 
She has also appeared as a guest host on Today by NBC. She was also a mentor to the finalists on The Next Food Network Star show.
Over the years, she starred in many different TV shows and won many awards for her work.
4. Paula Deen
Paula Deen is another female TV chef that we absolutely love. Over the years, she has published many different cookbooks and has appeared on lots of TV shows. 
Deen was born in Georgia, and both of her parents died while she was still very young.
She suffered from depression in her early 20s, and she began preparing food for her family as a way of coping with her mental health struggles. 
She suffered from agoraphobia at this time so spending time cooking was something that she could do without leaving her house. Her cooking technique came from her grandmother Irene Paul. 
When she and her husband divorced, Deen had no way to support her children. This is when she started her own catering business named The Bag Lady. She made lunches that her children then helped her deliver.
Paula's TV chef career came later. She started to present some Food Network shows in the early 2000's including Paula's Party and Paula's Best Dishes.
She has also competed on Dancing With The Stars, and she has appeared on Masterchef as a guest host.
Deen is a very successful female TV chef who we absolutely love, so don't let her fall off your radar! 
5. Monica Galetti
Monica Galetti is another very successful female TV chef who is most well known for her appearance on Masterchef: The Professionals.
She was given a very coveted position judging the contestants on the show, highlighting the respect she has in the industry. 
Monica was born in New Zealand, but she moved to the UK in 1999 after securing a job at Le Gavroche, a restaurant with two Michelin stars. This restaurant was owned by the famous chef Michael Roux Jr. 
She worked her way up the ranks in this restaurant, eventually securing herself the sous-chef position. She was the first woman to take on this role at Le Gavroche. 
Galetti took her cooking skills to TV, and she presented many different shows. She also appeared as a judge in The Queen's Platinum Pudding Competition.
With her face a common one in the media, she also released two cookbooks. In recent years she has also presented Amazing Hotels: Life Beyond The Lobby.
6. Lidia Bastianich 
Lidia Bastianich is an Italian-American celebrity chef. She has written many books and made many TV appearances. She is also a restaurateur and she owns lots of restaurants across the US, alongside her son and daughter.
Bastianich specializes in Italian-American cuisine and she has contributed to public television cooking shows for many years. In 1998, Bastianich launched her own TV series named Lidia's Italian Table.
This kickstarted her television career and, over the years, she has hosted many other TV series, including Lidia's Family Table and Lidia's Kitchen.
Lidia has also appeared on Masterchef USA as a celebrity judge. Her children are also TV chefs, so it certainly runs in the Bastianich family! 
7. Julia Child
Julia Child was an American Chef and TV personality. She was absolutely loved and she was known for bringing French cuisine to the American public.
Before her cooking career, she spent some time working in marketing in New York. 
She attended culinary school in France, and this is where she wrote her debut cookbook named Mastering the Art of French Cooking. This book became an immediate bestseller in 1961.
She then launched her show named The French Chef which premiered in 1963. This, alongside lots of other TV appearances and additional culinary books, made her an icon in the cooking industry.
Up until she died in 2004, she remained a household name and continued to release books. 
Final Thoughts 
So, there you have it! In such a male-dominated business, there are many very successful female TV chefs that we love!
We have compiled a list of 7 female TV chefs who have made it to stardom and become a common feature in all of our living rooms. 
All of the chefs on this list have paved the way for future female TV chefs as they managed to make a name for themselves in the industry (see also "Female Chef Seafood Cookbooks You Do Not Want To Miss").
So, if there are any names on this list that you don't recognize, have a look into their back catalog today, and don't let them fall off the radar!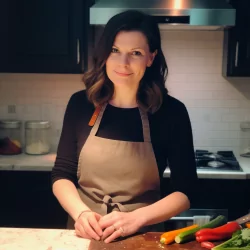 Latest posts by Barbara Hunt
(see all)