As the benefits of going vegan and consuming a balanced, plant-based diet are becoming more well-known throughout the world, more and more vegan chefs are making names for themselves. 
Among these chefs, we've been blown away by the work of the many female vegan chefs who are showing the world how delicious vegan food can be, one recipe at a time. 
The interesting thing about many of the female vegan chefs whose names we know today is that their work often extends beyond writing recipes and preparing incredible foods.
These women are, more often than not, advocates for social change and justice.
If you're interested in finding more powerful vegan women to learn from, here are 10 female vegan chefs whose work and food we can't get enough of!
1. Nina Curtis 
Nina Curtis is, without a doubt, one of the most successful and inspiring female vegan chefs out there. 
Not only is she the Executive Chef and Director of multiple vegan food establishments, including Vitaliz Café, and Adventist Health, but she's also Ranch Daily's Chief Nutrition Officer. 
Nina has been an advocate for veganism for two decades now and has a significant background in the food industry in general.
Curtis uses the knowledge she has accumulated to not only produce excellent plant-based dishes in the kitchen, but educate others about the importance of whole, vegan foods. 
Some of her projects include developing wellness training programs to help people to learn more about the benefits of veganism and encourage sustainable food growing practices. 
2. Babette Davis 
Babette Davis is a big name in the vegan food industry, and rightly so!
This incredible woman is not only a world-class chef, but she's also an expert in fitness and continues to work as a motivational speaker, encouraging others to show up as their best selves outside of the kitchen.
Davis is the owner of plant-based restaurant, Stuff I Eat, which is located in Inglewood, California. On top of that, she has written an amazing cookbook called 'Cash In on Cashews'.
When she initially opened her restaurant, she was told by many people that she wouldn't bring in customers, but proved them wrong.
Babette Davis is a strong proponent for transforming your life through vegan cuisine and fitness, regardless of age.
She herself did not start a restaurant until she was in her 50s, and encourages others to make the changes they want to see in their lives, no matter what.
3. Jocelyn Ramirez 
Jocelyn Ramirez may be one of the most well-known vegan female chefs, but she's also a lot of other things.
She's a public speaker and a content creator, and her vegan recipes are some of the best we've ever tasted!
Ramirez has explained that her passion for unprocessed, plant-based food stemmed from a lack of access to such foods during her childhood.
This made her want to open her own restaurant (Todo Verde) to make healthy, plant-based cuisine more accessible in her neighborhood. 
Jocelyn Ramirez is also a successful cookbook author. Her book, 'La Vida Verde', is a collection of vegan Mexican recipes that are packed with flavor and nutritional goodness. 
4. Charity Morgan
Chef Charity Morgan is a firm believer that plant-based food can be life-changing, and she knows what she's talking about.
Holding a degree from Le Cordon Bleu College of Culinary Arts, Morgan is well-versed in nutrition and is particularly passionate about vegan living. 
Charity Morgan is committed to making vegan food accessible to all, as well as creative and inclusive.
She also believes in a non-judgmental attitude to veganism, encouraging followers to make small changes to their diets to benefit themselves and the planet by way of sustainable and individual transitions. 
Her book, 'Unbelievably Vegan,' features no less than 100 incredible vegan recipes.
Alongside writing recipes and featuring in documentaries such as The Game Changers, Charity Morgan has cooked for various celebrities and athletes, from NFL players to Miley Cyrus.
5. Leslie Durso
Leslie Durso is a phenomenal vegan chef as well as a professional wellness expert. Durso's vegan cuisine revolves around healthy, clean eating, showing that nutritious food can also taste amazing.
Durso is a consulting chef for many restaurants, resorts, and hotels worldwide. You might know her as the Four Seasons Master Chef titleholder, 2019.
You might also have seen her working alongside Bill Nye, the Science Guy. 
Since then, Leslie has established herself as a private chef, cooking for celebrities and educating the public through appearances on shows like The Doctors.
She even has her own shows (The Substitution Show, Around the World in 80 Plates, and Kid Cuisine Remix). 
You can find some of Leslie's delicious vegan recipes via her website and try them out for yourself!
6. Jenné Claiborne 
Jenné Claiborne is the author of the fantastic cookbook, 'Sweet Potato Soul', which contains 100 beginner-friendly vegan recipes inspired by the flavors of Southern cuisine. 
If you're interested in making and tasting more vegan Soul Food, Claiborne's recipes should be one of the first places you look.
There is a huge misconception surrounding veganism that certain recipes (those typically made using dairy and meat) need to be given up in order to live plant-based.
Claiborne proves that this isn't true by reinventing many of her childhood favorite recipes without the animal products. 
Chef Jenné Claiborne also has a YouTube channel where she personally shares her cooking tips and thoughts on vegan cuisine. 
7. Erin McKenna 
Erin McKenna is the proud owner of a bakery that caters to many dietary requirements, including veganism.
If you're gluten-free, or are allergic to soy, eggs, or dairy, McKenna's recipes and products will be perfect for you.
Erin McKenna's Bakery offers local delivery and pickup, as well as nationwide shipping, and same-day orders.
McKenna's incredible menu features classic bakes and desserts that many people assume are off the table when it comes to veganism.
From vegan cupcakes to vegan tiramisu, the bakery promises not only plant-based ingredients, but 100% gluten-free and 100% kosher. 
This female vegan chef (see also: 8 Female Chef Vegan Gluten-Free Cookbooks You Do Not Want To Miss)can truly be considered a pioneer of vegan baking that is also suitable for those with traditionally limiting dietary needs.
Don't forget to check out her cookbooks, 'BabyCakes Covers the Classics', 'Bread & Butter' and 'BabyCakes: Vegan, (Mostly) Gluten-Free, and (Mostly) Sugar-Free Recipes'.
8. Makini Howell
Makini Howell is the owner of the successful restaurant, Plum Bistro, which boasts an entirely vegan menu. 
While the restaurant is upscale today, it began as a sandwich shop that Howell helped her mother to run.
Now, Plum Bistro has several branches, ranging from the upscale restaurant to a salad bar (Plum Chopped) and a food truck (Plum Burgers). 
Howell's vegan lifestyle was inspired by her parents, who initially committed to vegetarianism and, in spite of the limited options at the time, decided to go vegan.
In order to do so, they had to prepare all of their own food, and this attitude manifests itself in the freshly-prepared food served at all Plum venues today.
9. Chloe Coscarelli
Chloe Coscarelli probably needs no introduction.
In case you haven't heard of this amazing vegan chef, she first appeared on 'Cupcake Wars' on Food Network, where she was the first vegan chef to be awarded the top prize.
Since then, Coscarelli has gone on to do amazing things, writing multiple vegan cookbooks, including 'Chloe Flavor: Saucy, Crispy, Spicy, Vegan', 'Chloe's Vegan Italian Kitchen', and 'Chloe's Kitchen: 125 Easy, Delicious Recipes for Making Food You Love the Vegan Way'.
Chloe also partnered with Whole Foods in 2020 to offer vegan Thanksgiving meal options, and with Club Med in 2022, where she helped to add vegan meals to menus at multiple resorts in the Caribbean and Mexico. 
10. Joanne Molinaro
You might know Joanne Molinaro as 'The Korean Vegan', which is the title of her cookbook as well as her Instagram handle. 
Molinaro is an attorney, as well as a blogger and cookbook author. She even has a podcast where she talks about her life and thoughts on subjects ranging from cultural appropriation in food to law school. 
Joanne Molinaro is on a mission to make traditional Korean food vegan-friendly. She went vegan shortly before 2016, at which point, she started her blog, and then her TikTok channel.
Molinaro's content is informative from both a vegan food perspective and a cultural and political perspective. 
In 2022, she spoke on the 'Just Beings' podcast, where she discussed the overlap between storytelling, food, and empathy, and explained how these can all be used as tools to fight oppression and injustice, for both humans and non-human animals. 
Final Thoughts 
These are just our personal top 10 female vegan chefs that we think you should know about.
From veganizing baked goods to recreating food from various cultures without animal products, these women have done some amazing things in the vegan food scene.
Be sure to check out the cookbooks linked above to try out these vegan chefs' phenomenal recipes for yourself!
Also, if you'd like to discover even more vegan female chefs, (see also: 4 Female Chef Easy Vegan Cookbooks You Do Not Want To Miss)rest assured that there are hundreds out there, all with different specialties, so get searching!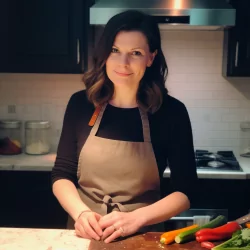 Latest posts by Barbara Hunt
(see all)