Lily Nichols is a registered nutritionist/dietitian, Certified LEAP Therapist, Certified Pilates Instructor, and Certified Diabetes Educator.
Best known for her unique approach to real food and mindful eating, Nichols has published multiple books related to eating healthy.
Primarily, Nichols focuses her work on nutritious diets during pregnancy.
Her books are packed with delicious, nutrient-dense meals and foods that feed you and your baby. In all honesty though, her recipes are so great that anyone can enjoy them.
Today, we want to show you the best recipes Lily Nichols has to offer. To do that, we've done the research for you and listed 10 best Lily Nichols recipes to try today (see also "Best Kelly Leveque Recipes"). In this post, we'll tell you more about each recipe we found.
If you're looking for something new, unique, and nutritious to eat, you've come to the right place. Let's get started!
The first Lily Nichols recipe we have for you is her delicious and highly nutritious broccoli cheddar soup recipe.
Loaded with healthy greens and a bone broth base, this soup recipe is jam-packed with essential nutrients and minerals.
You could use water instead of bone broth but the bone broth contains an array of beneficial amino acids.
Meanwhile, the spinach added to the recipe offers folate. We recommend using fresh vegetables instead of frozen if you can because they have a better texture.
In terms of flavor, this soup has a relatively neutral, creamy, and cheesy flavor that goes down nicely. A hot bowl of this soup would be perfect in winter.
If you love Asian food, you have to give this tasty Korean beef bowl recipe a try.
Perfect for anyone following a keto diet, this recipe only takes 20 minutes to make. Better still, you only need 10 basic ingredients to make it.
Some of the key ingredients you need to make a Korean beef bowl include green onion, garlic, ground beef, ginger, carrots, soy sauce, and mushrooms.
The key to making this recipe low-carb is to use cauliflower rice instead of normal rice.
Unlike normal rice, cauliflower rice is very low in carbohydrates.
Lily Nichols also makes some pretty awesome desserts too. One of her best is this blackberry honey cheesecake.
Sweet, rich, creamy, and tart, this cheesecake is high in fat but that does come with its benefits.
This Lily Nichols recipe contains fats that help blunt blood sugar response. Having said that, this might not be the best recipe for anyone following a low-carb diet.
Despite being packed with honey, blackberries, sugar, and lime juice, this cheesecake recipe isn't overpowering.
In fact, the ingredients combine together beautifully to create a well-balanced sweet, tart, and tangy flavor.
Enchiladas are a hugely popular dinner dish but they come with anywhere from 10 to 60 grams of carbohydrates which is way too much for a low-carb diet.
Luckily for us, Lily Nichols has reimagined a classic enchilada recipe, making a dish that's much healthier.
Instead of using fresh tortillas, this recipe gets you to make cabbage enchiladas. Aside from that, most of the ingredients in this recipe are the same as the ones you'd have in any enchilada.
This particular recipe calls for an enchilada sauce, ground beef, onions, peppers, chili powder, and pureed tomato amongst other things.
If you came here looking for an easy one-pan meal to serve to the whole family, this grass-fed beef shepherd's pie recipe is ideal.
Ready to eat in approximately one hour, you'll need 16 different ingredients to make this dish.
This may seem like a lot, but almost all the ingredients are staple pantry ingredients, you'll already have in your cupboards.
To give the recipe more nutrients, Nichols includes a few ounces of beef liver.
This amps up the vitamin and mineral content of the recipe which is a nice bonus. To reduce carbs, this recipe also calls for a cauliflower topping instead of mashed potatoes.
One of the easiest Lily Nichols recipes you can make is a tasty balsamic carrot slaw.
This recipe doesn't require any cooking at all. All you have to do is cut the veggies, throw them in a bowl, season them, and leave them to marinate for 30 minutes.
After 30 minutes, you'll be left with a sweet, fresh, zingy bowl of goodness.
Super simple to make, the only ingredients this recipe calls for are carrots, cabbage, avocado oil, balsamic vinegar, lime juice, salt, pepper, and thyme.
You can serve this slaw on a sandwich, in a burger, with pulled chicken, in a salad, or over the top of a hotdog.
If you want to impress your guests with a wonderful fish dish, look no further than this Lily Nichols honey lime halibut recipe.
Fish isn't the easiest ingredient to cook but Nichols makes things much simpler for us.
This recipe details the simple techniques we can use to prepare and cook a beautiful piece of fresh halibut.
When it comes to flavors, this recipe is incredible. The combination of honey and lime with a variety of other herbs and spices takes the fish to a new dimension.
The blend of sweet, tangy, and spicy ingredients is impeccable. Despite its complex appearance, this recipe only requires 10 ingredients. Surprisingly, there are only 6 steps to follow too.
The next recipe on our list shows you how to make rutabaga fries. This is a great recipe to follow if you want to try something different as opposed to classic fries. Rutabaga isn't the most popular vegetable but it has a lot to offer.
This yellow turnip has a fantastic flavor that's both sweet and slightly bitter. These flavors taste great when the vegetable is turned into fries.
One of the best things about the rutabaga is its lack of carbs. Despite containing the same amount of nutrients as potatoes, rutabaga only contains half the amount of carbohydrates.
You can make this recipe in an oven too, so there's no need to fry them.
Some people don't like the bitter taste of kale leaves in their mouths, however, this Lily Nichols recipe uses a different type of kale that has a less bitter and sweeter flavor. Therefore, you can still enjoy it even if you're not a fan of kale.
The type of kale in question is Lacinato kale. This type of kale is bursting with essential nutrients and minerals that make it a highly beneficial food to eat.
In this recipe, Lily Nicholls teaches us how to enjoy kale in a healthy and flavorful salad.
To give the salad a more enjoyable flavor, Nicholls includes ginger, lime juice, coconut sugar, soy sauce, and pepper flakes.
This gives the salad a much-appreciated lighter, aromatic, sweeter, and tangy flavor.
Maple pots de creme, also known by the name creme brulee, is a luxuriously rich, sugary, and creamy dessert we like to order in fine-dining restaurants. However, did you know that you can also make it at home?
If not, you're in for a real treat! Maple pots de creme is actually super easy to make at home, and since it's full of healthy egg yolks, it's relatively good for you too.
Even though this sweet dessert is topped with sugar, it still contains less sugar than most desserts.
You only need 6 simple ingredients to make this epic dessert. Those ingredients are heavy cream, maple syrup, sea salt, egg yolks, vanilla extract, and maple extract.
There are some tricky steps to follow but Nichols' instructions are clear and concise.
Final Thoughts
Lily Nichols is a popular nutritionist and dietitian that has created a wide range of awesome recipes that are packed with essential nutrients and minerals.
In this post, we've looked at the best Lily Nichols recipes you can try at home today (see also "Amazing Rachael Ray Carbonara Recipes").
We've looked at healthy side dishes, nutritious dinners, low-carb family meals, and even some delicious desserts. Now you have this list, why don't you pick out the recipes you want to try first?
Frequently Asked Questions
What Is Real Food For Pregnancy By Lily Nichols About?
Real Food For Pregnancy by Lily Nichols is a unique book that focuses on optimal prenatal nutrition that supports both the mother and child.

In this book, Nichols details a wide range of nutritious recipes expecting mothers can try.
How Many Recipe Books Has Lily Nichols Published?
To date, Lily Nichols has 2 different nutritional books that contain nutritious recipes. These are Real Food For Pregnancy and Real Food For Gestational Diabetes.
Can Your Diet Cause Gestational Diabetes?
No, current evidence would suggest that just because you eat a certain food doesn't mean you'll get gestational diabetes. In fact, there is no surefire way to prevent gestational diabetes.
10 Best Lily Nichols Recipes To Try Today
Course: Recipes
Directions
Pick a recipe from the list above
Click the recipe name and visit the website
Collect the ingredients and cook the food
Enjoy – don't forget to leave a review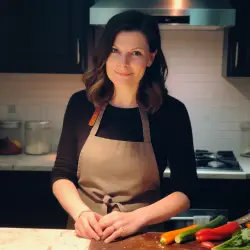 Latest posts by Barbara Hunt
(see all)