The heart of Italy resonates in every dish and culinary creation, but very few chefs capture its essence quite like Cristina Bowerman.
Her recipes, an ode to her homeland, beautifully merge traditional flavors with contemporary techniques, resulting in dishes that are both familiar and innovative.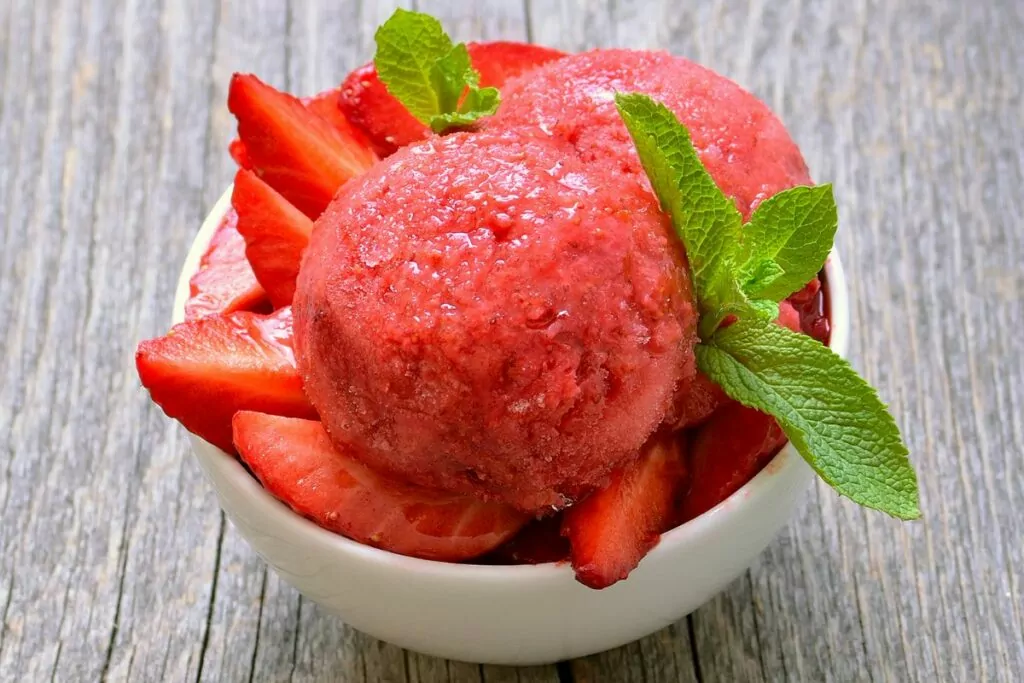 In this article, we take a look at the fascinating career of Italian chef Cristina Bowerman and share a few of her recipes.
Are you ready to dig in?
Who Is Cristina Bowerman?
Born in Cerignola, in the southern Italian region of Puglia, Cristina Bowerman is a multifaceted chef who has achieved much in her diverse career.
With a law degree under her belt, Cristina moved to the United States, where her passion for cooking took flight.
She honed her culinary skills at Le Cordon Bleu in Austin, Texas, an experience that deeply influenced her approach to Italian cuisine.
Upon returning to Italy, Cristina took charge of the kitchen at Glass Hostaria in Rome.
Her innovative techniques, combined with a respect for traditional Italian recipes, earned the restaurant a Michelin star, distinguishing Cristina as one of the few female chefs in Italy with this honor.
Not just restricted to her kitchen in Rome, Cristina has been a fervent advocate for culinary education and has also actively promoted Italian cuisine on a global scale.
Whether participating in international culinary festivals or leading initiatives to inspire budding chefs, her commitment to the culinary arts remains unwavering.
Her journey from Puglia to Rome via the U.S. is a testament to her dedication, passion, and culinary prowess.
Cristina Bowerman's Cookbooks
Although Cristina Bowerman is known for her hands-on approach in the kitchen and her culinary schools, she hasn't authored a standalone cookbook herself.
She was, however, involved in the creation of Chef Cristina Bowerman Meets Eugenio Tibaldi by Maria Paola Poponi.
In this book, Cristina Bowerman, renowned for her innovative twists on Italian cuisine, pairs with the visionary artist Eugenio Tibaldi in this unique collaboration.
Readers are treated to Bowerman's signature dishes, each meticulously crafted and infused with her distinct flair, taking traditional Italian ingredients and methods and melding them with contemporary techniques and presentations.
Yet, what sets this book apart is the parallel journey it takes through Tibaldi's art. As one flips through the pages, not only are they met with tantalizing dishes but also with vibrant, thought-provoking artwork that resonates with the essence of each recipe.
Tibaldi's pieces offer a visual feast, complementing Bowerman's culinary creations in a dance of colors, textures, and flavors.
Cristina Bowerman's Restaurants
Glass Hostaria is where Cristina Bowerman has truly made her mark.
Located in the heart of Rome, this Michelin-starred restaurant offers a gastronomic experience that blends tradition with innovation.
Each dish is a testament to Cristina's dedication to quality and her keen understanding of how flavors interplay.
Other Ventures
Beyond Glass Hostaria, Cristina is involved in various other culinary projects, including Romeo Chef & Baker, a unique space in Rome that combines a bakery, pizzeria, and restaurant.
Cristina Bowerman's Recipes
Embark on an Italian culinary journey with Cristina Bowerman's Rice Tagliatelle, adorned with the rich flavors of red mullet, vibrant peppers, and the briny undertone of bottarga.
A gluten-free delight, the pasta, made from a mix of buckwheat and rice flour, ensures everyone can indulge in this dish without compromise.
The essence of the dish lies in the intricately prepared red mullet stock. Made with a combination of large and small red mullets, it is enhanced with aromatic mirepoix, a touch of garlic, and the richness of white wine.
The addition of tomato paste brings depth, while fresh coriander introduces a hint of zest.
But the true stars that elevate this dish are the finishing touches.
Roast red peppers provide a smoky undertone juxtaposed with the nuttiness of toasted almonds.
The bottarga, aged in the luxurious Armagnac, lends a unique briny depth, enhanced further by a splash of cider vinegar for that extra tang.
These delicious spheres, with vibrant hues and layers of flavor, are emblematic of the exuberance of Sicilian desserts.
Cristina Bowerman, with her flair for reinventing classics, brings a fresh touch to this traditional cake while retaining its soul.
At the heart of the cassata is a moist sponge cake, soaked, often, in liqueur or fruit juices to ensure every bite is tender and flavorful. This sponge forms the base, absorbing the intricate tastes of the other ingredients.
Ricotta cheese, sweetened and whipped to a creamy consistency, forms the next layer. The ricotta is studded with chocolate chips or candied fruits, providing unexpected bursts of sweetness and texture.
The exterior of the cake boasts a layer of marzipan, but Bowerman's version sees the cake finished with a crisp layer of chocolate.
She serves it on a bed of delicate almond foam.
Elevating a classic corn soup to gourmet standards, Cristina Bowerman brings forth an exquisite blend of rustic Italian flavors and refined culinary artistry.
The heart of the dish, the Corn Purée, is a lush and velvety concoction made from fresh ears of corn.
The combination of white wine vinegar and cider vinegar introduces a delicate tanginess, balancing out the inherent sweetness of the corn.
As a nod to traditional Italian gastronomy, Bowerman incorporates Cotechino Powder.
But the magic doesn't stop there. Gently laid upon this golden-hued soup are succulent red prawns and delicate white shrimp.
Their sea-fresh flavors perfectly contrast with the hearty undertones of the cotechino.
The citrusy brilliance of fresh orange juice and zest gives an unexpected brightness to the ensemble.
Garnished with Parsley Agar Balls, each bite delivers a burst of fresh herbiness, creating layers of flavor and texture.
The fresh garlic microcress adds a gentle kick, rounding off the taste profile of the dish.
Lastly, a touch of habanero sauce is introduced for those who favor a hint of spice.
Bowerman's Artisan Spaghetti showcases the very best of Italian flavors and cooking techniques with a keen sense of innovation.
The dish is a culinary exploration of taste and texture that brings together the richness of Gragnano spaghetti – renowned for its superior quality – with the smokiness of roasted red peppers.
The preparation begins with the careful cooking of red peppers. Once cooked, they are transformed into fragrant pepper water, where the essence of the pepper shines through, offering a tantalizing base for the pasta.
The oiliness and briny richness of Cetara anchovies, hailed from the Amalfi Coast, introduce a beautiful depth to the dish.
The dish is elevated by the delicate addition of mullet bottarga, introducing a subtle saltiness that dances on the palate.
Lastly, fresh cilantro is woven into the mix, providing bursts of zestiness and color.
Its bright and herbaceous tones contrast beautifully with the richness of anchovies and the smokiness of peppers.
Cuttlefish spaghetti, ink, and orange: a trio that sings harmoniously of the Mediterranean Sea and the orchards of Italy.
Paired with al dente spaghetti, fresh cuttlefish ensures that every bite is succulent and flavorful.
The sauce, a decadent amalgamation of aromatic trombolotto oil and rich fish stock, serves as the bedrock of flavor for the dish.
The ink not only imparts its characteristic marine essence but also dyes the dish in a shade of midnight, making it a visual feast for the eyes.
But the true genius lies in the finishing touch: the zest of a fresh orange.
This unexpected component brings a bright, citrusy note that pierces through the richness of the dish.
It lightens the palette, adding a refreshing contrast to the profound depths of the sea flavors.
Cristina Bowerman offers a re-imagination of a beloved classic with the Handmade Amatriciana-Stuffed Ravioli.
Crafted with precision, the foundation of this dish is the ravioli dough. The rich, yellow pasta sheets hold within them a stuffing that's the epitome of tradition: the Amatriciana.
Central to the Amatriciana filling is guanciale, an unsmoked Italian bacon made from pork cheek, which brings a distinctive salty and savory flavor.
White onion adds sweetness and depth when sautéed with a portion of guanciale, while the balsamic vinegar introduces a tangy undertone, beautifully balancing the richness.
Tomatoes, simmered and reduced with the guanciale and onion mixture, provide the signature robustness associated with Amatriciana sauce.
For an added twist, Bowerman incorporates red onion, giving the filling a slight sharpness that contrasts beautifully with the rich guanciale.
The inclusion of chicken or beef broth ensures the stuffing remains juicy, providing a burst of flavor with every bite.
The Strawberry and Hibiscus Sorbet by Cristina Bowerman is a refreshing testament to the brilliance of combining classic fruit flavors with exotic floral notes.
A symphony of sweetness, tartness, and aromatic undertones, this sorbet is a palate cleanser par excellence.
Fresh strawberries are pureed to form the base of this frozen delight.
Yet, it's the hibiscus infusion that elevates this sorbet to a realm of sophistication.
Hibiscus, with its deep ruby color and tangy flavor, infuses the sorbet with an almost wine-like depth.
The floral notes of the dried hibiscus flowers, when steeped in water, produce an infusion that complements the strawberries beautifully, adding layers of complexity to an otherwise simple dessert.
The final result is a sorbet that dances between the fruity sweetness of ripe strawberries and the tart, aromatic charm of hibiscus.
Perfect for a hot summer's day or as a refined dessert after a sumptuous meal, the Strawberry and Hibiscus Sorbet showcases the innovative spirit of its creator, harmoniously blending the familiar with the unexpected.
Cristina Bowerman's Rack of Lamb with Stilton Cheese and Burnt Leek is a culinary masterpiece that effortlessly marries the rustic charm of lamb with the nuanced flavors of Stilton cheese and the smoky notes of leeks.
The star of this dish, undoubtedly, is the succulent rack of lamb. Perfectly seasoned and cooked to tender perfection, the lamb is further enhanced by a fresh herb marinade, combining parsley, mint, garlic, oil, and the salty kick of anchovy.
This coating not only imparts additional flavor but also ensures a crusty sear when the rack is cooked.
The leeks, charred to introduce a hint of smokiness, are presented as an earthy counterbalance to the richness of the lamb.
Chicory, known for its slightly bitter taste, is transformed into a velvety sauce, with the addition of anchovy, garlic, and a hint of chili providing depth and warmth.
To add texture, Bowerman introduces crispy parsley – deep-fried until it takes on a crunchy dimension, serving as a delightful contrast to the softness of the lamb and the creaminess of the sauce.
The tangy, creamy, and slightly pungent flavor of Stilton delicately melts over the warm lamb, creating an exciting juxtaposition of tastes and complexity that lingers.
Finally, a sprinkle of chili flakes or powder provides a finishing touch, ensuring that this dish, while rooted in tradition, has an edge of modernity and surprise.
In Summary
Italian chef Cristina Bowerman's journey in the culinary world is a testament to her passion, innovation, and unyielding dedication to Mediterranean cuisine.
Her recipes, teachings, and restaurants serve as vibrant chapters in a story that continues to inspire both budding chefs and food lovers alike.
Want to learn more about incredible female Italian chefs? Take a look at our article dedicated to Valeria Piccini.
A Deep Dive Into The World Of Italian Chef Cristina Bowerman (With Some Of Her Best Recipes)
Course: Other Recipes, Recipes
Directions
Choose your favorite Cristina Bowerman recipe from above
Gather your ingredients
Cook a delicious meal
Enjoy!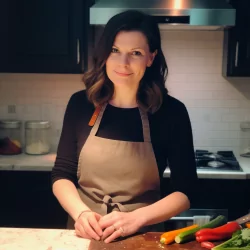 Latest posts by Barbara Hunt
(see all)