Italy is a gastronomic powerhouse, home to rich traditions, unforgettable flavors, and a culinary ethos centered around fresh, quality ingredients.
When it comes to embracing and showcasing these Italian culinary delights, few do it better than Angela Hartnett.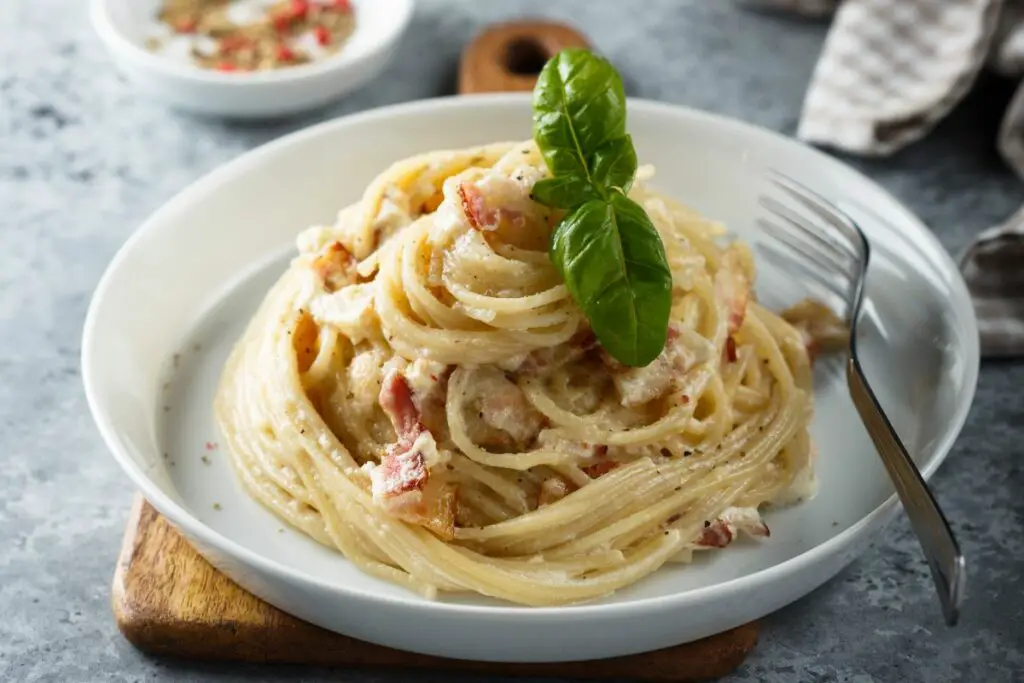 With an impressive culinary career and her genuine passion for Italian cuisine, Angela Hartnett Italian recipes are an homage to both her family's roots and the broader Italian culinary heritage.
Here, we take a look at her career and delve into some of her most celebrated dishes that bring Italy right to your table.
Who Is Angela Hartnett?
Angela Hartnett is rapidly becoming one of the best Italian female chefs in Britain.
Her command over Italian cuisine, combined with a contemporary touch, has made her a household name.
Born to an Italian mother in England, Angela's earliest memories of food are intertwined with family gatherings, the aroma of traditional dishes wafting from the kitchen, and tales of her family's hometown in Emilia-Romagna, Italy.
Angela first pursued a degree in history however her love for Italian food and the connection to her Italian heritage called her back to the culinary world.
She began her formal culinary training in Cambridge. But it was her tutelage under the legendary chef Gordon Ramsay that truly honed her skills and set the stage for her meteoric rise.
Working alongside Ramsay at his eponymous restaurant in Chelsea, Angela quickly rose through the ranks, showcasing her dedication, passion, and unmatched prowess in the kitchen.
Throughout her illustrious career, Angela has been the force behind several successful restaurants, including the Michelin-starred Murano in London's Mayfair.
Her culinary achievements haven't gone unnoticed. From being awarded an MBE for services to the hospitality industry to securing her own Michelin star, Angela's accolades are a testament to her relentless pursuit of excellence.
However, what truly sets Angela Hartnett apart is her philosophy towards food. For her, cooking is not just about technique or presentation—it's about memories, emotions, and stories.
She believes in the power of food to connect, to heal, and to celebrate, a belief she imbues in every dish she crafts.
Today, Angela Hartnett is not only admired for her culinary expertise but also revered for her contribution to championing women in a predominantly male-dominated industry.
A chef, a mentor, and a trailblazer, Angela's legacy extends far beyond the kitchen.
Angela Hartnett's Cookbooks
Angela has penned some remarkable cookbooks throughout her career.
These books offer a deep dive into her culinary journey, influences, and the heart and soul of Italian cooking.
Here are some of Angela Hartnett's best cookbooks:
This cookbook is an ode to Angela's family traditions and her Italian heritage.
It traces recipes passed down through generations, showcasing traditional dishes as well as Angela's modern interpretations of these classics.
In "Angela's Kitchen," Hartnett shares an array of recipes that are both delicious and uncomplicated.
It's a testament to her belief that good food doesn't have to be complex. From starters to desserts, the book covers it all with Angela's signature touch.
Angela Hartnett's "The Weekend Cook: Good Food for Real Life" is a culinary companion for those who desire to produce mouth-watering meals without the weekday hustle.
Recognizing the importance of relaxing and rejuvenating over the weekend, Hartnett crafts recipes that respect your time off, blending simplicity with flavors that never compromise on quality.
The book strikes a balance between laid-back and gourmet, ensuring that whether you're hosting a Sunday brunch, a cozy dinner, or simply indulging in personal me-time, the recipes elevate your weekend experience.
Angela Hartnett's Restaurants
Angela's culinary genius isn't confined to her kitchen alone. She has translated her culinary prowess into successful dining establishments.
The most notable of these is Murano, located in London's upscale Mayfair district.
It offers an intimate dining experience and boasts a Michelin star, a testament to its exceptional Italian cuisine.
Alongside Murano, she has Café Murano, a more laid-back version of its sophisticated sibling, found in various locations throughout London.
These venues represent Angela's deep-rooted love for Italian cooking and her dedication to preserving its authenticity while adding a contemporary twist.
Hartnett Holder & Co. is a culinary collaboration between Angela Hartnett and Chef Luke Holder.

Located at the luxurious Lime Wood Hotel in the New Forest, Hampshire, this restaurant brilliantly marries Italian culinary traditions with British flair.
8 Angela Hartnett Italian Recipes
If you're looking to bring a taste of Angela Hartnett's culinary magic into your own kitchen, we recommend trying some of these delicious Italian recipes:
A delightful variation of a traditional Italian favorite, Angela Hartnett's Pea and Pancetta Lemon Risotto is evocative of Italy's sun-kissed coasts.
The heart of the recipe lies in Arborio rice's gradual infusion with broth and lemon, leading to a creamy consistency.
With every bite, you're introduced to the delicate aroma of fresh lemons combined with the slight saltiness of the pancetta and accented by a modest touch of grated parmesan for a rich undertone.
Venturing into the earthy domain of Italian flavors, this dish is a tribute to pasta's harmonious relationship with mushrooms.
Angela's recipe sees fresh tagliatelle partnered with girolle mushrooms, tenderly seasoned with garlic and fresh herbs.
The highlight? Add a helping of chopped bacon for added depth, and round this dish off with a gentle sprinkle of Parmesan.
A journey into Northern Italy's culinary heart, Angela's Osso Buco With Risotto Milanese is a celebration of textures and tastes.
The recipe's magic unfurls as veal is seared and then allowed to tenderly braise in an aromatic mix of white wine, tomatoes, garlic, peppercorns, onions, and other complementary flavors.
Serve with a simple, homemade risotto.
A delightful medley of textures and flavors, Angela Hartnett's Mozzarella and Grilled Romano Pepper Salad, is a fresh take on classic Italian ingredients, highlighting the beautiful synergy between the creamy mozzarella and the sweet, slightly charred Romano peppers.
In this recipe, Romano peppers are roasted until their skin is blistered and slightly blackened, enhancing their natural sweetness.
Once cooled, the skins are peeled off to reveal the soft, smoky flesh within. Slices of creamy buffalo mozzarella are then layered with these grilled peppers on a plate.
The dish is elevated with drizzles of balsamic vinegar and sherry vinegar.
A sprinkle of freshly ground black pepper, a dash of sea salt, and torn basil and rocket leaves add a refreshing aroma and taste.
In her take on the classic Northern Italian dish, Angela Hartnett masterfully marries the sweet, earthy tones of pumpkin with the aromatic notes of sage and the textured crunch of walnuts in her Pumpkin Tortelli.
This dish embodies autumn on a plate, showcasing the season's harvest in its full glory.
Silky pasta dough is rolled and shaped to encase a filling that's a blend of roasted pumpkin, ricotta, parmesan, ginger, and black pepper.
Once the tortelli are boiled to al dente perfection, they're tossed in a luxurious butter sauce infused with fresh sage leaves and toasted walnuts.
The butter, golden and nutty, clings to the pasta, making each bite an indulgent experience.
Now for a sweet note, Angela's Panna Cotta is poetry in dessert form.
The recipe showcases the delicate dance of cream, sugar, and gelatin, resulting in a dessert that melts in your mouth.
But it doesn't end there; coupling a classic Panna cotta with blood orange and crunchy cantucci ensures a dessert that's both harmonious and memorable.
Diving deep into the heart of Rome, Angela's Spaghetti Carbonara is the epitome of simplicity meeting flavor.
This classic Italian dish defines comfort food without compromising on taste.
Angela's top tip for the best possible Carbonara is to choose high-quality cheese and streaky bacon.
Evoking memories of Italy's sun-drenched coasts, this dish beautifully pairs the subtle flavors of sea bream with aromatic fennel.
Angela's expertise shines as the fish, seasoned and roasted to perfection, rests atop caramelized fennel, harmonized with the zest of white wine and lemon.
In Summary
The essence of Italian cuisine lies in its simplicity, fresh ingredients, and the stories that weave through every dish.
Angela Hartnett's recipes are a brilliant testament to this ethos. By marrying traditional techniques with contemporary twists, she offers a culinary experience that transports one straight to the heart of Italy.
Whether you're a seasoned chef or a home cook, Hartnett's dishes provide a chance to embrace authentic Italian flavors in your own kitchen.
As we've journeyed through some of her iconic recipes, it's clear that with Angela Hartnett's guidance, every meal can be a celebration of Italy's rich gastronomic heritage.
Frequently Asked Questions
Has Angela Hartnett Got A Michelin Star?
Yes, Angela Hartnett has been honored with a Michelin star.

She received this prestigious accolade for her exceptional culinary skills and her restaurant, Murano, located in London's Mayfair.

The Michelin star is a testament to her dedication to excellence, her innovative approach to Italian cuisine, and the consistent quality that diners can expect when visiting her establishment.
How Many Restaurants Does Angela Hartnett Have?
Angela Hartnett owns and operates several establishments.

She is best known for Murano in Mayfair, which has received a Michelin star.

Additionally, she has Café Murano, with multiple locations in London, and Hartnett Holder & Co in Hampshire.
Enjoy Italian Flavors With These Angela Hartnett Recipes
Course: Other Recipes, Recipes
Directions
Choose your favorite Angela Hartnett recipe from above
Gather your ingredients
Make your Italian dish
Enjoy!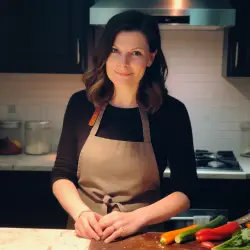 Latest posts by Barbara Hunt
(see all)