A crab cake is a popular variety of fishcakes that we can make quickly and easily, using pretty basic ingredients.
Popular across the United States, we can make a batch of healthy and filling crab cakes to serve with a salad, at a barbecue, or in a tasty sandwich.
However, finding the best crab cake recipes isn't as easy as you would think. There are so many wonderful recipes online that it can be surprisingly overwhelming to choose the best recipe. 
Today, we're here to make your life easier. Paula Deen has a great variety of crab cake recipes to choose from, all of which are simple, quick, tasty, and healthy. 
In this post, we're going to show you 10 of Paula Deen's crab cake recipes. We'll tell you what you can expect and how best to serve each type of crab cake.
Without further ado, let's get started!
The first crab cake recipe we have for you is a traditional crab cake recipe that can be used to make a batch of fresh crab cakes in less than 20 minutes.
Once made, these crab cakes can be served with a salad, in a sandwich, or as a quick appetizer.
The main ingredients this recipe calls for are crab meat, green onion, bell peppers, buttery crackers, egg, and mayonnaise. The only other ingredients you need are herbs, spices, and sauces.
When we made these crab cakes, we were thrilled with the overall flavor of the cakes and their texture. The cakes are soft and creamy in the middle and golden brown and crispy on the outside.
What's not to like?
Another Paula Deen recipe that helps you make a more classic type of crab cake is this baked crab cake recipe. This recipe will help you make a batch of 12 fairly big crab cakes in just 25 minutes.
These crab cakes have a slightly different flavor as the recipe calls for cajun seasoning. This gives the crab meat a much more enjoyable flavor and a slight hint of spice.
The other ingredients you need to give the crab meat more flavor are Dijon mustard, lemon juice, and chives.
The lemon juice is a neat addition because it helps balance the strong spicy flavors of the cajun seasoning and mustard with a sweet zesty flavor.
This faux crab cake recipe will save you time and money. You need fewer ingredients and you don't have to spend more money buying crab. Instead, you can use canned tuna to recreate something similar.
Aside from saving you money and time, this recipe is also great if for whatever reason you can't eat crab. To top things off, you only need 7 ingredients to make it.
This includes mayonnaise, green onions, egg, tuna, and lemon juice. Once again, lemon juice pairs beautifully with the fish.
Considering this recipe doesn't contain any crab meat, we didn't notice a very big difference in terms of flavor and texture.
Next up, we have Paula Deen's crab balls recipe. This recipe is ideal for anyone that wants to put a unique twist on this classic dish.
Instead of simply making a large crab cake, this recipe gets you to make smaller crab cake balls that are fried in oil until golden brown.
They might not be the healthiest crab cakes on this list, but they're definitely one of the tastiest. The fried crab balls are crispy on the outside and wonderfully soft and creamy in the middle.
The ingredient list is a little long, but the results are well worth it. Despite the long list of ingredients, it will only take you 20 minutes to make a batch of 12 crab balls.
Another unique crab cake recipe you can make is this crab and asparagus quiche recipe. Perfect for a dinner party, brunch, or buffet, this recipe combines 2 popular dishes to make one epic appetizer. 
Surprisingly easy to make, the recipe does brilliantly to combine the best elements from both dishes.
The crab meat and shredded gruyere cheese complement each other beautifully, while the mustard and whipping cream help give the cupcakes a more interesting flavor and texture profile.
The mustard offers some heat, while the whipped cream offers a richer and creamier flavor with some sweet notes too. Meanwhile, the asparagus helps load this dish with more color and nutrients. 
Paula Deen's grilled crab cake sammie recipe teaches us how to make crab cakes and a crab cake sammie. For those that aren't sure, sammies are essentially a sandwich. 
This is a great recipe to follow if you're not too sure what to do with the crab cakes you make. It will show you how to make your crab cakes before then assembling the perfect sammie. 
There are 10 ingredients you need to make crab cake sammies.
Those are crab meat, bell pepper, mayonnaise, dijon mustard, seafood seasoning, lemon zest, black pepper, scallions, celery, and white bread.
If you're looking for a healthier crab cake recipe that better fits a low-fat diet, we recommend giving this low-fat Savannah crab cake recipe a try.
Bursting with fresh crab flavor, this crab cake recipe cuts out most fats by using healthier ingredients and by baking the crab cakes instead of frying them.
Examples of ingredients that help make this recipe more suitable for a low-fat diet include light sour cream. Compared to heavy cream and cheese, this ingredient is much lower in fat. 
For us, what makes these crab cakes so special is their strong flavor.
The herb and spice mix blend of cayenne pepper, Dijon mustard, salt, and Worcestershire sauce gives the crab cakes a powerful punch.
Paula Deen has even created a fantastic Halloween-themed crab cake recipe that you can use to encourage your children to eat healthily.
As you can probably imagine, this recipe is also a great way to teach your kids how to make crab cakes.
The crunchy crab cake spiders feature a quirky spider-like shape. The body of the spiders is made out of crab cakes, while their legs are made from slices of red bell pepper.
Aside from looking pretty awesome, these crab cakes taste great. Wasabi powder provides a spicy kick, while lemon juice offers a sweet and tart flavor.
Both ingredients are then balanced out with creamy mayonnaise.
If you prefer a crab cake that packs more heat, you should try Paula Deen's crab-corn cakes with basil-jalapeno sauce.
As you would expect, the jalapeno sauce that accompanies these crab cakes packs a strong spicy flavor that will make your taste buds tingle.
This spicy flavor goes really well with the fresh flavors of the crab meat. To ensure the spicy flavors aren't too overpowering, the recipe only calls for 1 jalapeno.
If you like things hotter, you could add more, but be careful. You don't want to spoil the crab cakes with too much spice.
A solid appetizer, the crab cakes are given a sweeter flavor with the inclusion of corn (Also check out Paula Deen Corn Casserole Recipes). Again, lemon juice provides a tart flavor. 
The final crab cake recipe on this list is an aromatic, hearty, and fresh crab cake appetizer with a lemon-dill sauce. By far the best thing about this crab cake recipe is how light they are.
Melt-in-your-mouth delicious, these crab cakes will fall apart in your mouth, while offering the most amazing fresh crab flavor and creaminess.
They only take 30 minutes to make but you will need 17 ingredients.
Luckily, most of the ingredients you need will probably be in your cupboards already. For us, crab cakes don't get any better than this and we're sure your guests will agree.
Final Thoughts
Crab cakes are a simple, quick, and easy dish you can make if you want to make something delicious.
Whether it be for your guests at a party, a family dinner, or simply a quick snack, there are hundreds of different crab cake recipes to choose from.
In this post, we showed you 10 of the best Paula Deen crab cake recipes(see also: 10 Amazing Paula Deen Red Velvet Cake Recipes To Try Today). Now you have our list, it's time for you to decide which crab cake recipe you want to try first.
All of the recipes on our list are awesome so we're sure you'll love whichever one you choose.
Frequently Asked Questions
Is It Best To Fry Or Bake Crab Cakes?
Generally, there isn't a right or wrong answer to this question as it primarily comes down to personal choice. However, for us, baking crab cakes is better because they are healthier and easier to make.
What Sauces Go Best With Crab Cakes?
There is a wide range of sauces that go nicely with crab cakes. Some of the best include tomato butter, lemon-dill, basil-jalapeno, and horseradish cream.
What Holds Crab Cakes Together?
The main purpose of breadcrumbs in a crab cake recipe is to act as a binding agent. It is the breadcrumbs that hold everything together.
10 Amazing Paula Deen Crab Cake Recipes To Try Today
Course: Paula Deen, Recipes
Directions
Pick a recipe from above
Click the recipe name and visit the website
Collect the ingredients and the food
Enjoy – don't forget to leave a review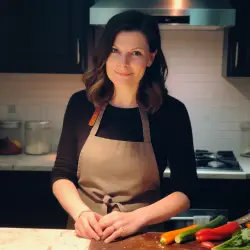 Latest posts by Barbara Hunt
(see all)