There was a time when the most famous chefs in the world were entirely male when there were very few celebrity chefs that were female, and when only men were expected to succeed in the culinary world.
Thankfully, times have changed and now there are a large number of female chefs making up some of the richest chefs in the entire world.
While the most successful chefs on the planet are generally male, there are now a large number of female chefs riding on their coattails and sailing toward the top spots every single year.
So if you are a woman who wants to make a career in the culinary world, these rich female chefs are an excellent example of why you will be able to achieve your goals.
For all the inspiration that you need, in this guide, we're taking a look at 9 of the richest female chefs across the globe who we absolutely adore (see also "Female YouTube Chefs We Adore"). So, if you want to find out more, keep on reading!
1. Rachael Ray
One of the richest female chefs in the world is Rachael Ray. Born in Glens Falls, New York, Rachael Ray began to make a name for herself in the culinary world from a young age.
Now in her mid-fifties, Rachael Ray's culinary career spreads across many different areas. Rachael Ray is an American chef, first and foremost. But she is also a television personality, businesswoman, and author.
She hosted her very own chat show on daytime television, and her 30-minute meal cookbooks were met with great success too.
For many women, Rachael Ray is a great inspiration because she took her passion and built a career around it.
With recipes that are achievable for busy people leading busy lives, there's no question as to why she's one of the richest female chefs in the world.
2. Ina Garten
Another female chef that hails from New York that has made a huge name for herself on television is Ina Garten. Ina Garten formerly worked for the Office of Management and Budget before pursuing a career in cooking.
This career switch was one of the best decisions she made. Ina Garten really burst onto the scene with her variety of different cookbooks.
With recipes for different people in different circumstances, her meals seemed incredibly achievable, and the public loved that. She also hosted her own television show titled "Barefoot Contessa" on the Food Network.
This show combined with her delicious cookbook recipes made her a household name in the USA, and ultimately one of the richest female chefs in the world.
3. Giada De Laurentiis
Giada De Laurentiis is another incredibly successful female chef. Born in Rome, Italy, Giada De Laurentiis has used her Italian background to create lots of different delicious Italian dishes.
But it is in the USA that she has really reached the heights of her career. As well as being a chef, Giada De Laurentiis is also a writer and television host.
She has written lots of excellent cookbooks and has also hosted her own television shows. Alongside a string of television guest appearances, she also hosted "Giada at Home" which really made the nation fall in love.
With delicious recipes and an Italian charm, there really is no question as to why Giada De Laurentiis has been so successful in her career.
4. Ree Drummond
Another American chef, who hails from the Southern State of Oklahoma, and who has made a great career in cooking is Ree Drummond.
Ree Drummond's cooking career is slightly different as she has really made a name for herself through blogging and the online cooking community.
She lives on a working ranch in Oklahoma and lives a very different life from some of the glamorous chefs we have looked at so far. But that is why so many people love Ree Drummond.
Alongside her very successful blog, Drummond has also written a number of cookbooks and took her fans with her on a massive weight loss journey in 2021.
She is very relatable, and that has really helped to make Ree Drummond one of the most successful female chefs in the world.
5. Sandra Lee
Fans of homemade cooking really catapulted Sandra Lee to global fame. With her semi-homemade cooking style and her relatable personality, the nation instantly fell in love with Sandra Lee.
Everybody would love to cook homemade meals every single day, but for most people, this just isn't achievable. Cooking from scratch requires a lot of time, and sadly a lot of people just don't have this luxury.
But through cookbooks and TV appearances, Sandra Lee introduced the nation to a style of semi-homemade cooking that involved a mixture of prepackaged and fresh items.
Just like Ree Drummond, her cooking was relatable and this catapulted her career!
6. Ana Quincoces
Miami-based Ana Quincoces has led an interesting and fulfilling career, and only part of it has involved working as a chef.
Ana Quincoces is a chef, a lawyer, and a businesswoman, and her busy career even involved 2 seasons of the Real Housewives of Miami.
As she shot to fame, Ana Quincoces was dubbed "Miami's Hottest Chef", and this title really helped further her career.
Ana Quincoces always presented herself in a much more glamorous way than most female chefs, and that is part of the reason why she became popular.
After a lucrative television career, Ana Quincoces took a step back from the cameras.
But her intense social media following has very much kept her lucrative and in the limelight. That is why she is one of the richest female chefs in the world.
7. Nigella Lawson
Sailing across the pond, one of the most famous chefs in the world is undoubtedly British chef, Nigella Lawson.
Nigella Lawson has had a lucrative career spanning decades, and she really paved the way for female chefs in the UK.
Nigella Lawson's career has included a vast range of television shows, a number of cookbooks, and a website with lots of cooking tips and tricks.
Nigella Lawson really made cooking "sexy" in the UK, and for this reason, she attracted a lot of men and women to follow her career.
With television shows airing pretty much every single year, including holiday specials, Nigella Lawson has never really left the public eye in the UK. This has led to her becoming one of the richest female chefs in the world.
8. Nadiya Hussain
Nadiya Hussain has had a truly interesting career, and that is because she started off as a baker.
If you are a fan of the "Great British Baking Show" (or the "Great British Bake Off" as it is known in the UK), then you might be familiar with Nadiya.
She won the competition and the hearts of the nation in the show's sixth series, and this really kick-started her career. 
Nadiya's career immediately after the show centered around baking, but she soon branched off into cooking too. Since then, she has hosted a variety of cooking shows and published a number of cooking books.
Her baking skills won her the competition, and her kind and relatable personality won her the hearts of the nation. That is why she has become one of the richest female chefs in the world.
9. Bethenny Frankel
Finally, we couldn't create this list without giving a special mention to Bethenny Frankel. Another New York-based chef, Bethenny has made an excellent career for herself as a chef, TV personality, and author.
Her career has been very similar to Ana Quincoces who we spoke about earlier.
She made a name for herself in cooking, and her glamorous lifestyle led to her appearing in multiple seasons of the Real Housewives of New York City.
Since the show ended, she founded a lifestyle brand – Skinnygirl – that incorporated cooking and her other passions.
Her television appearances, along with the other things she has achieved in her career have made her one of the richest female chefs on the planet.
Summary
In conclusion, there are lots of rich female chefs across the globe that continue to inspire girls with culinary dreams every single day.
From Rachael Ray to Nadiya Hussain, there are lots of women from lots of different backgrounds who have made a name for themselves in a once male-dominated industry.
In this guide, we have taken a look at 10 of the richest female chefs in the world to provide you with all the inspiration you need if you are interested in this industry. Thanks for reading!
Frequently Asked Questions
Who Is The Richest Female Chef In The World?
At the time of writing, the richest female chef in the world is Rachael Ray who we looked at in #1.

It is estimated that Rachael Ray is worth an estimated $100 million from her television programs, cookbooks, and the fact that she is a TV personality.

This is incredibly ironic as Rachael Ray has continuously tried to shed the title of being a "chef" and has said throughout her career that she isn't a chef. But her work says otherwise, and so does her net worth.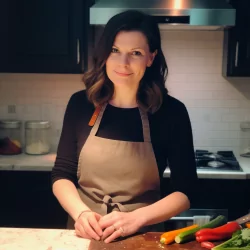 Latest posts by Barbara Hunt
(see all)