What's the fastest dessert around? Scone!
Come on, you laughed!
Now we've got that mom joke out of the way; let's get down to the business of finding an excellent scone recipe.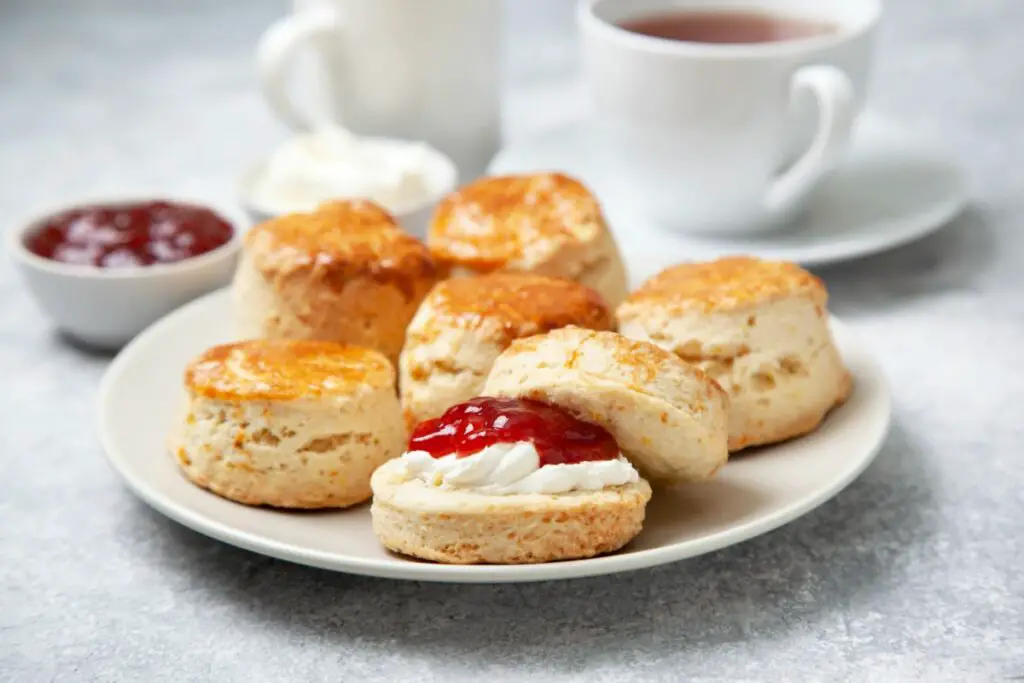 Scones are a quintessentially English dessert, traditionally enjoyed with cream and jam and a cup of tea.
But, in this guide, we're going to include our favorite sweet and savory scone recipes.
We know not everyone has a sweet tooth, but that doesn't mean you should miss out on the delights of a good scone. Plus, cheese scones are very popular across the globe.
Keep reading to find a scone recipe that takes your fancy.
We're kicking it off with a classic.
This is the type of recipe that probably comes to mind when you think of scones.
Picture the scene: a warm tea (Earl Grey, of course), served in the best bone-china cup, a delicate, floral plate with a warm scone cut open, waiting to be slathered with fruit jam and clotted cream. Delicious.
To make a plain scone, you need a few staple ingredients such as butter, sugar, self-raising flour, baking powder, milk, vanilla extract, a squeeze of lemon, and a beaten egg to glaze.
Serve with good quality butter, fresh strawberries, raspberry or strawberry jam, and plenty of clotted cream or whipped cream.
Blueberries are a delight in scones, and we love the tasty glaze that tops these.
This recipe will take around 45 minutes to make, and you'll have eight delicious triangular scones at the end of it – you may want to double the mixture if you're entertaining a few people.
You'll need sugar, all-purpose flour, baking soda and baking powder, lemons, salt, butter, sour cream, egg, and blueberries.
For the delicious glaze, mix melted butter, confectioners' sugar, vanilla extract, and freshly squeezed lemon juice and drizzle over your scones.
The Barefoot Contessa can always be relied upon for a divine dessert, and we are obsessed with her chocolate pecan scone recipe.
This recipe will make 14 good-sized scones packed full of chocolate and pecan goodness.
Enjoy these scones warm, perhaps with a drizzle of caramel sauce.
Gemma Stafford has a wonderfully traditional recipe with these best-ever Irish scones.
These sweet and soft scones are made from staple scone ingredients, along with juicy sultanas.
These are best served with lightly salted butter, plenty of raspberry jam, and a healthy dollop of whipped cream.
You can store these treats in an airtight container for up to two days.
There's something pretty special about poppy seeds in a scone, and we think the combination of strawberry and ginger really levels up the traditional scone.
To make these delightful dessert scones, you'll need sugar, baking powder, all-purpose flour, lemon zest, poppy seeds, butter, crème fraîche or sour cream, chopped strawberries, and crystallized ginger.
Use a beaten egg and a drop of milk to glaze these scones and sprinkle over demerara sugar before cooling and then baking.
We've got our first savory entry as Anna Jones brings us a divine scone recipe that's best enjoyed with a strong cheese and a good quality chutney.
This recipe gives the essence of an excellent roast dinner wrapped up in a scone.
If you have leftover parsnips after a big meal, this is a great way to use them up.
All you need is plain flour, roasted parsnips, milk, egg, baking powder, salt and black pepper, butter, rosemary, and parmesan.
Ina Garten has created a cheese-lovers dream with these cheddar and dill scones.
Garten's recipe will make 16 delicious scones, which we enjoy served with a slightly salted butter or chili jam.
To make these scones, you'll need all-purpose flour, unsalted butter, salt, baking powder, heavy cream, eggs, fresh dill, and extra-sharp cheddar.
Brush your cheese scones with an egg wash before you bake them.
These raspberry and yogurt scones are so fresh and delicious.
To make them yourself, you'll need all-purpose flour, sugar, baking soda, baking powder, plain yogurt, salt, heavy cream, butter, fresh raspberries, raspberry jam, and an egg.
Decorate your scones with coarse sugar and extra raspberries.
We're sticking with raspberries as they work so well in scones.
This recipe from Martha Stewart only takes 30 minutes (yup, just as fast as the recipe name suggests), so they're a great option if you have unexpected visitors, and you'll have 20 incredible scones to dig into with them too.
These raspberry scones are best served warm with plenty of clotted cream and some fresh raspberries.
We have the perfect fall scone for you with this next recipe.
We love pumpkin pie, but sometimes it's nice to have something a little more savory, and we love the flavor combination in these scones.
These scones are made from all-purpose flour, brown sugar, salt, garlic powder, baking powder, chopped walnuts, unsalted butter, finely grated Parmesan cheese, fresh sage, grated Gruyere cheese, heavy cream, pumpkin puree, and an egg.
There's a divine topping for these scones, too, whipped up from heavy cream, unsalted butter, and cracked black pepper.
Top your sensational savory scones with a fresh sage leaf.
Lemons make the best desserts, and these lemon and ginger scones are so refreshing.
This is another delightful recipe from Martha Stewart, which uses sugar, all-purpose flour, baking soda, baking powder, salt, ground ginger, crystallized ginger, unsalted butter, the zest of two lemons, heavy cream, buttermilk, egg, and fresh ginger.
To make the luscious lemon glaze, combine confectioners' sugar with lemon juice – so simple but effective.
Martha Stewart REALLY knows how to make an excellent scone.
We love that these scones have a truly gourmet vibe. At a glance, the flavor combinations may seem a little strange, but they complement each other so well.
Pear, Irish cheddar, and honey scones are a delight at dinner parties. To make them at home, you'll need the following ingredients: all-purpose flour, baking soda, baking powder, salt, sugar, unsalted butter, currants, buttermilk, and caraway seeds.
Drizzle honey over your savory scones and serve with Irish cheddar (although any good cheddar will do) and sliced pears.
We love a good apple dessert, especially in the fall, and these apple scones really hit the spot.
In under 30 minutes, you can have a batch of 12 fruity scones to tuck into.
Brush your scones with milk, sugar, and cinnamon, and serve warm with vanilla ice cream or whipped cream.
Irish soda scones are perfect for celebrating St. Patricks Day.
To make these Martha Stewart scones at home, you'll need sugar, salt, baking powder, baking soda, all-purpose flour, dried currants, butter, buttermilk, and caraway seeds.
For the drizzle, mix together milk, orange zest, and confectioners' sugar.
Serve warm.
When it comes to savory scones, ham, cheese, and leek is a classic combination.
These are incredible for a light lunch or served as finger food at a party.
To make these scones, you'll need olive oil, leeks, butter, salt and black pepper, parmesan, all-purpose flour, baking powder, ham (we like parma), plain yogurt, and egg wash.
Cut these warm and slather them with butter and serve with chutney.
This scone recipe is a great way to use up the last of your oats.
To make these delightful scones at home, mix together sugar, flour, currants, oats, baking powder, and salt. Stir in an egg, melted butter, and milk.
We like these served with strawberry jam and clotted cream.
And last, but by no means least, we have these buttermilk scones from the legendary Nigella Lawson.
These scones are so light and fluffy, and they take less than 25 minutes to make.
Serve these buttermilk scones warm with apricot or raspberry jam.
In Summary
Whether you want something savory or sweet, we've got a scone recipe to suit you.
We are partial to a traditional fruit scone, served with lashings of clotted cream and strawberry jam, but you can't go wrong with a good cheese scone, either.
Which scone recipe will you choose for your next afternoon tea?
Frequently Asked Questions
What Is The Secret To Making Good Scones?
We have a few top tips to share with you for making a good scone:

– Don't overwork your dough.
– Chill your scones before baking them.
– Use cold ingredients to give your scones a better rise when they bake.
– Space your scones well when baking – giving them space to rise and expand.
Are Scones Supposed To Be Hard Or Soft?
Are Scones Supposed To Be Hard Or Soft?
What Do People Eat With Scones?
Sweet scones are commonly served with butter or jam and clotted cream.

If you have a savory scone, you can also enjoy this with a little butter or even some cheese and chutney.
17 Simple Scone Recipes Everyone Needs To Try
Course: Other Recipes, Recipes
Directions
Choose a sweet or savory scone recipe
Get all of your ingredients ready
Make your scones
Enjoy!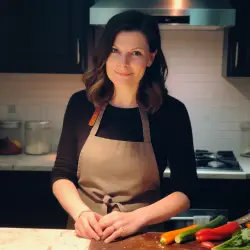 Latest posts by Barbara Hunt
(see all)