Korean cuisine has taken the world by storm in recent years, with its unique blend of spicy, sweet, sour, and salty flavors winning over food enthusiasts everywhere.
The male chefs of South Korea have long been recognized for their culinary talent, but now it's time to shine the spotlight on the women who are making a name for themselves in the industry.
In this article, we'll take a look at seven of the best female Korean chefs, each with their own distinctive style and approach to cooking.
From traditional dishes to modern interpretations, these women are paving the way for the future of Korean cuisine and proving that women have what it takes to succeed in a male-dominated industry.
So sit back, grab a bibimbap bowl, and get ready to be inspired by the culinary genius of these seven talented chefs.
1. Cho Hee-Sook
Cho Hee-sook is one of the most renowned Korean chefs, known for her innovative approach to traditional Korean cuisine.
Born in 1962 in Seoul, South Korea, Chef Cho started her culinary journey by learning from her grandmother, who taught her the importance of using fresh, seasonal ingredients in her cooking.
After completing her studies in hospitality and culinary arts, Chef Cho went on to work at some of the most prestigious restaurants in Korea before opening her own restaurant, Hansikgonggan, in 2011.
Since then, she has won numerous awards and accolades, including the title of Asia's Best Female Chef in 2020.
Chef Cho's philosophy is centered around "jeong," a Korean concept that translates to a sense of deep affection and connection with people, nature, and food.
Her dishes reflect this philosophy, as she blends traditional Korean ingredients and techniques with modern cooking methods to create dishes that are both delicious and visually stunning.
Some of Chef Cho's signature dishes include "Daegu jorim," a braised cod dish with spicy sauce, and "Duck bulgogi," marinated duck meat cooked over a charcoal grill.
Chef Cho's passion for Korean cuisine and her commitment to promoting it on a global stage has made her one of the most respected and influential chefs in the world.
2. Kim Bo-Mi
Chef Kim Bo-mi is a highly acclaimed Korean chef who is known for her innovative approach to traditional Japanese cuisine.
She is the head chef of the Michelin-starred Japanese restaurant, Mitou, which is located in Seoul, South Korea.
After completing her studies in culinary arts, Chef Kim went on to study in Japan with the goal of presenting a unique experience centering around Japanese cuisine in Korea.
In 2018, Chef Kim opened a Japanese cuisine restaurant- the aforementioned Mitou- in Seoul along with fellow chef Kwon Young-woon.
The establishment has since become a beloved Japanese restaurant in Seoul and attracts a range of customers, including Japanese clientele who vouch for the authenticity of the cuisine found there.
3. Cho Eun-hee
Chef Cho Eun Hee is a renowned Korean chef who is known for her expertise in traditional Korean cuisine.
She is one of the four female chefs leading the one Michelin-star restaurant (see also: 7 Female Korean Chefs We Adore)Onjium, found in Seoul, South Korea.
Before becoming part of Onjium, Cho was a culinary teacher for sixteen years. She spent those years at the Institute of Korean Royal Cuisine and Baewha Women's University.
Her skills and experience have led to her becoming a culinary expert of sorts, acting as a cuisine consultant for cultural events, publications, and for various Korean period dramas.
The menu at Onjium has a focus on Korean history and culture too, changing monthly to reflect the seasons and utilizing foraged, native produce to offer a historical taste of the country of South Korea.
4. Judy Joo
Judy Joo is a Korean-American chef, television personality, and cookbook author. She was born in New Jersey but spent much of her childhood in Seoul, South Korea.
Joo began her career as an investment banker, but later decided to pursue her passion for cooking.
Joo trained at the French Culinary Institute in New York City and worked at several high-end restaurants before moving to London in 2007.
There, she became the executive chef at the Playboy Club London and later opened her own restaurant, Jinjuu, which serves modern Korean cuisine.
She has since left Jinjuu, but its legacy remains as one of the most well-known and established Korean restaurants in London.
Joo has also appeared on several cooking shows, including Iron Chef UK, Iron Chef America, and The Next Iron Chef.
In 2015, she hosted her own television show, Korean Food Made Simple, on the Cooking Channel.
Joo has also published several cookbooks, including Korean Food Made Simple and Judy Joo's Korean Soul Food.
Joo is known for her creative and modern take on Korean cuisine, blending traditional flavors and techniques with contemporary cooking styles.
She has been recognized for her culinary achievements with several awards, including the Michelin Bib Gourmand for Jinjuu in 2017.
5. Hee Eun Kim
Hee Eun Kim is a well-known Korean chef who has gained recognition for her innovative and modern approach to Korean cuisine.
She is the chef and owner of the restaurant Soul, a fine dining establishment in Seoul, South Korea.
Kim is married to fellow chef Yun Dae-Hyun, who she works with at Soul.
Their experiences come together well, with Kim's specialty being in Korean cuisine and Yun Dae-Hyun's being in Western cuisine, making for a combination of tastes and flavors that only heighten the fine dining experience at the restaurant.
With the aim of bridging the gap between Western and Korean cuisine, Kim is definitely one of the most noteworthy, up-and-coming female chefs to be found in South Korea thanks to her dedication to fusing cuisines whilst maintaining a fine dining experience for her customers.
6. Mina Park
Mina Park is a Korean-American chef who- much like the aforementioned Judy Joo- made a rather significant career leap to become the chef she is today.
Growing up in the United States, Park would often help out in the kitchen due to her family being chock-full of talented female cooks, but she would not go on to pursue the culinary arts professionally for a while.
Park was initially a corporate lawyer who would run pop-up dining events across various parts of the world- such as in Hong Kong and other parts of Asia- for three years.
Her first event occurred in 2014 at PMQ's Night market.
She maintained this hectic schedule alongside her full-time lawyer work for three years until she decided to quit that role in 2016 so that she could focus purely on her culinary interests.
Since quitting her job, Park has established her own pop-up dining concept and private kitchen known as Sook and has collaborated with various influential female figures in the Korean cooking industry, such as the aforementioned Judy Joo.
7. Lauren Kim
Born in Korea, Lauren Kim is an established Korean chef with several restaurants to her name, even though she doesn't actually reside in the country and the restaurants are not based in South Korea.
Kim lives in Bangkok- Thailand- and visits Korea around twice a year, though her cuisine is still very much rooted in her Korean heritage, with her restaurant Banjoo BBQ- which opened in 2015- being a classic Korean barbecue joint (which now has two branches).
She also opened Charm Korean Steakhouse, which is another link to her Korean heritage to be found in her Thailand restaurants.
Kim was highly inspired by the prominent female figures in her life, those being her single mother and her grandmother, both of whom ran their own restaurants.
Though she hasn't worked in restaurants in South Korea, Kim, and her family story, is an important one when it comes to the inherent sexism that besets the culinary industry.
Despite the difficulties that came with it, both Kim and her family were able to run their own restaurants without a male influence in their family dynamic, making her a significant figure when it comes to the representation of Korean women in the culinary world (despite her work all being Bangkok based).
Final Thoughts
Korean female chefs are making significant strides in the culinary world, both in Korea and beyond.
Despite facing various challenges such as discrimination and cultural expectations, these talented women have risen to the top of their profession and are making a name for themselves with their unique and innovative culinary creations.
From traditional Korean dishes to fusion cuisine, these chefs are pushing the boundaries of what is possible in the kitchen and inspiring a new generation of aspiring chefs.
As the world continues to become more diverse and inclusive, hopefully we will see even more Korean female chefs making their mark in the culinary industry, and we look forward to enjoying their delicious and creative dishes for years to come.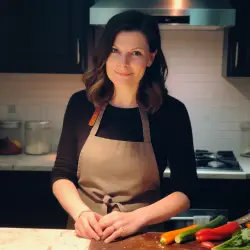 Latest posts by Barbara Hunt
(see all)