Anna Olson is an Ontario-based pastry chef who you might know as the host of Canada's Fresh on the Food Network channel.
She has also appeared on Bake with Anna Olson, and Sugar and Kitchen Equipped. 
While Olson primarily specializes in baked goods, she also has a couple of incredible savory recipes to complement the sweet treats she has put together over the years. 
Here are the 10 best Anna Olson recipes to try today, (see also: 6 Best Elizabeth Rider Recipes To Try Today)from delicious desserts to main courses filled with flavor and nutritious ingredients. 
Love chocolate cake, but want to (literally and figuratively) spice up your usual recipe? Why not try making this date and spice chocolate layer cake by Anna Olson?
This cake only takes an hour to make, with 35 minutes dedicated to preparation and 35 minutes for the baking. It's made up of 2 layers and produces 10 servings.
The first thing you would notice biting into this delicious cake is that it's extra moist.
That's because Medjool dates have been puréed into the chocolate batter, adding more moisture as well as extra natural sweetness. 
To make the cake better itself, you will need dates (of course), along with dark baking chocolate, unsalted butter, brown sugar, cocoa powder, all-purpose flour, and baking soda.
Extra spice comes from ground cinnamon and cayenne pepper.
For the frosting, all you need is unsalted butter, vanilla extract, cream cheese, and icing sugar!
These almond butter thumbprint cookies look as sweet as they taste!
This recipe can make 24 cookies, and if you can't eat them all at once, don't worry – they can be kept at room temperature in an airtight container for 5 days.
The cookies get their flavor from almond butter, ground almonds, and vanilla extract, as well as your jam of choice.
You can use any flavor you like, and if you can't decide, you could use different jam flavors in the same batch!
Thanks to the use of baking powder in this recipe, your cookies will rise a good amount, but the thumb imprint in the middle should stay flatter than the rest of the cookie, allowing you to add the jam in the center.
This roasted chicken with Medjool date mole sauce is one of the rare savory recipes Anna Olson is known for.
If you've been searching for a savory recipe with just a hint of sweetness, this is the dish for you. 
You need less than 15 minutes to prepare this dish, and an hour to cook.
This is a versatile recipe that can be served at casual events as well as fancier dinner parties, so it's a great one to have in your repertoire.
The chicken itself is very easy to prepare, since you just need to roast it.
The only other thing you'll need to prepare other than the mole sauce is basmati rice. 
For the mole sauce, you will need tinned tomatoes, corn tortillas, garlic, Medjool dates, onion, baking chocolate, peanut butter, cinnamon, cumin, lime juice, and coriander. 
If you're a fan of lemon drizzle cake, we think you'll also enjoy this glazed blueberry lemon loaf! 
Blueberries have a fairly mild flavor that is slightly sweet and sometimes slightly tart as well.
This works really well with the sharp zest of the lemon in the recipe. 
For the loaf itself, you will need to combine fresh blueberries with all-purpose flour, granulated sugar, lemon zest, half-and-half cream, vegetable oil, baking powder, vanilla extract, eggs, and salt. 
Once you have prepared the batter, all you need to do is make the lemon icing while the cake is baking.
The icing requires just 2 ingredients: icing sugar and lemon juice. 
Anna Olson's butter tart bars take less than 20 minutes to prepare, so although they take an hour to cook, you won't need to expend much energy making these delicious desserts.
This recipe can be split into 2 parts: the crust and the filling.
The crust is really quick and easy to make with all-purpose flour, icing sugar, and unsalted butter. 
Then, for the filling, you'll need brown sugar, chocolate chips, walnut pieces, maple syrup, white vinegar, vanilla extract, unsalted butter, and eggs. 
You'll bake the crust by itself before allowing it to cool and adding the filling, at which point, you'll bake the whole thing again.
You can then cut it into squares and serve with ice cream!
If you love cream puffs as much as we do, you may have thought to yourself at some point, 'I wish I could eat an entire tower of cream puffs'.
Well, with Anna Olson's croquembouche recipe, you can do exactly that (although we do recommend sharing – 60 cream puffs is a lot!)
To make the individual cream puffs, you'll need to make the profiterole batter, choux paste, and pastry cream separately.
You'll be using the choux paste recipe as the base for the profiteroles, with the addition of water, corn syrup, and sugar. 
The pastry cream consists of milk, egg yolks, cornstarch, unsalted butter, sugar, and a vanilla bean.
The assembly is the trickiest part, so you'll need some tongues and a steady hand.
Another rare savory recipe by Anna Olson that we can't get enough of is this charcuterie flatbread with Medjool dates, prosciutto, and Parmesan. 
Like pretty much all of Anna Olson's savory recipes, this one has a trace of sweetness coming from the dates, but the charcuterie ingredients complement it beautifully with just the right amount of saltiness. 
This recipe is for 2 flatbreads, which will serve between 4 and 6 people.
The prep time is less than 10 minutes, and since you'll only need 5 minutes for cooking, this is one of the quickest and easiest Anna Olson recipes you could follow. 
You can make the flatbreads from scratch using all-purpose flour, granulated sugar, salt, plain yogurt, dry yeast, and water.
Alternatively, you can use store-bought flatbreads and just add prosciutto, shaved Parmesan, roasted pepper strips, dates, parsley, and a balsamic glaze. 
Ever tried peanut butter cups from the store? Sure, they're delicious, but Anna Olson's chocolate peanut butter cups are even better. 
Making 12 chocolate peanut butter cups takes just 30 minutes of prep time, plus 20 minutes in the oven.
For the base, all you need is flour, granulated sugar, unsalted butter, and cocoa powder.
Then, the truffle layer is just made from dark chocolate, peanut butter, and corn syrup.
The filling is the most complex component, but it's still really simple as long as you have peanut butter, unsalted butter, white chocolate, whipping cream, chopped peanuts, icing sugar and salt. 
Black forest torte is a classic dessert, and Anna Olson does it best with this beginner-friendly, yet delicious and perfectly-presented recipe. 
This recipe is definitely a bit of a time commitment, taking 2 hours to make from start to finish, but the whole torte provides up to 18 servings, and it tastes incredible. 
The chocolate chiffon cake used for the base is moist at the same time as being airy, whereas a lot of black forest torte recipes turn out dry.
This texture is achieved by adding vegetable oil and cream of tartar to the chocolate batter, along with icing sugar.
You will then need to make whipped ganache for the filling, as well as a whipped cream frosting to decorate the cake.
The cherries are prepared with granulated sugar, cinnamon, and your choice of cherry gin, kirsch, or brandy. 
There are so many recipes out there for the classic New York cheesecake, it can be hard to know which one to follow.
However, Anna Olson's recipe is one of the best, in our opinion.
The crust for this cheesecake is made out of crushed graham crackers, sugar, and unsalted butter, so it's the perfect balance of sweet and salty. 
For the cheesecake itself, you'll be using cream cheese to give the bake that coveted rich and creamy flavor.
You'll also be adding cornstarch, sugar, vanilla extract, lemon zest, eggs, and full-fat sour cream, along with a couple of teaspoons of lemon juice. 
We love how the richness of the sour cream and cream cheese complements the sharpness of the lemon juice and zest, and the sweetness of the vanilla brings everything together perfectly. 
Final Thoughts 
Anna Olson has a great range of recipes that you can try out for yourself (see also "Amazing Katie Lee Recipes To Try Today").
Most of them are desserts, but if you're in the mood for a main course that's savory and sweet at the same time, there are a couple on this list that will suit you perfectly. 
Since many of these recipes involve baking sheets or pans, make sure yours match the sizes specified in the recipes before you get cooking or baking.
This should ensure that you get the consistency and sizes you're looking for. 
10 Best Anna Olson Recipes To Try Today
Course: Cookbooks
Directions
Pick a recipe from above
Click the recipe name and visit the website
Collect the ingredients and the food
Enjoy – don't forget to leave a review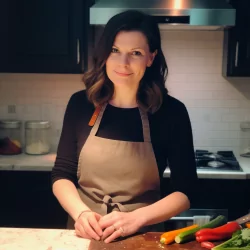 Latest posts by Barbara Hunt
(see all)